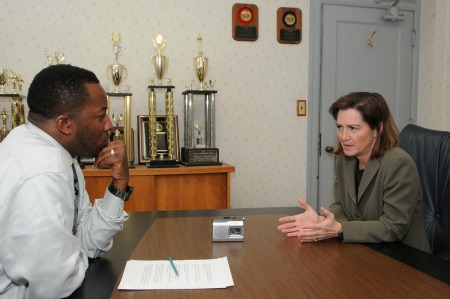 Barbara McQuade, the United States Attorney for the Eastern District of Michigan, whose office prosecuted one of the largest public corruption cases in Detroit's history that was dubbed "the Kilpatrick Enterprise," that resulted in a guilty verdict by a federal jury today, told journalists at her office this afternoon that there are some pending corruption cases including the Detroit Pension Board, Detroit Public Schools and the Detroit Public Library.
McQuade, flanked by the prosecution team that included her deputies, FBI, IRS and EPA agents, said the verdict against former Detroit mayor Kwame Kilpatrick, his longtime friend Bobby Ferguson and Bernard Kilpatrick should send a message to public officials that they will be held to the highest standard their office requires.
"Although this investigation spanned many years, this case is not about the past. It is about the future. This verdict has sent a powerful message that corruption will not be tolerated in this community," McQuade said. "The people of Detroit deserve better and expect better. Candidates should seek public office to make a difference, not to make money for themselves."
McQuade, using harsh words, said Kilpatrick looted Detroit and that the case is about the future for those who are called to service in any capacity.
Mark Foley, Detroit FBI special agent in charge, said, "The FBI led Detroit Area Public Corruption Task Force worked tirelessly to pursue and prosecute individuals associated with a criminal enterprise run for years out of the Detroit Mayor's Office."
According to Foley, "Due to the scope and complexity of the investigation, it was imperative to make sure no corners were cut and no stone was left unturned. With this conviction, the public can be reassured that no corrupt activity will be left unchecked. No violation of the public's trust will go unpunished. The citizens of the state of Michigan and in this case the city of Detroit, deserve and expect the highest quality of government, and we remain
dedicated to ensuring they receive it."
Eric Martinez from the Internal Revenue Service said it was painstakingly difficult to bring all of the elements together.
"We worked very hard with our revenue auditors. This was a case about following the money," he said, and they did just that.
Richard Weber, chief of Criminal Investigation at the IRS, said, "Corruption at any level diminishes the hard work and dedication of the thousands of elected officials and government employees who are dedicated to providing honest services to the American public."
He added, "IRS-CI stands committed to weed out individuals who ignore the public's well-being and choose to take the path to financial success by using greed and corruption. Mr. Kilpatrick attempted to conceal his public corruption by failing to report to the Internal Revenue Service his illicit receipt of hundreds of thousands of dollars. When elected officials disregard their sworn oath because greed has clouded their judgment, let this case serve as a reminder that no one is above the law and everyone is accountable for their misdeeds."
McQuade said it is unlikely the federal government will prosecute the former mayor's sister, Ayanna Kilpatrick, or his ex-mistress, Christine Beatty, even though they were tied to the case. She cited government resources and the complexity of the cases that come before them.
In the Kilpatrick-Ferguson verdict she said, "We expect the sentencing to be significant," and that federal prosecutors will look at similar cases around the country before recommending a sentence.
McQuade cited the trial of former Illinois governor Rod Blagojevich who received 14 years in federal prison.