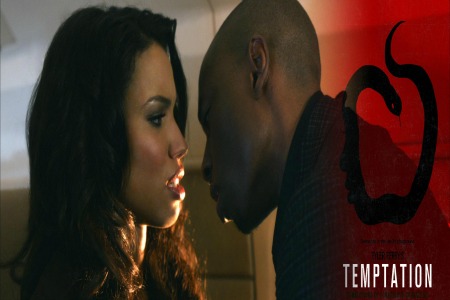 It's that time! The highly anticipated new Tyler Perry movie "Temptation: Confessions of a Marriage Counselor" will be out this month on March 29. If you have been living under a rock and missed the trailer for the new flick, it stars Jurnee Smollet-Bell (The Great Debaters), Lance Gross ("House of Payne"), Robbie Jones ("90210"), Kim Kardashian, Vanessa Williams and Brandy Norwood.
Smollet-Bell plays Judith, an ambitious, married woman who is tempted into adultery by a sexy billionaire named Harley (Jones). In the trailer, Harley is ruthless in his pursuit of Judith, capitalizing on her vulnerabilities and her husband Brice's (Gross) inattentiveness highlighted by him forgetting her birthday for the second year in a row. Harley wines and dines her, flies her around on his private jet, heals her sprained ankle and of course gives her mind-blowing passion. But things get violent as her husband finally starts to notice that things are different and Harley's chivalrous facade starts to crumble.
The haunting words, presumably spoken from Judith's mother, "That man is going to hurt you bad… he's going to take you straight to hell," foreshadow a tragic, Shakespearean end amplified by a scene where Harley and Brice smashing through a picture window.
I must admit I'm very interested in seeing "Temptation". It was written for film and not for the stage. These actors are known to film acting and not just theater (minus Kim K.). There is nothing wrong with stage plays, but devices that work on stage do not necessarily translate on film and vice versa. That has been the biggest issue with watching Tyler Perry movies—they usually come off as poorly adapted plays, because that's what they are. Hopefully, "Temptation: Confessions of a Marriage Counselor" will be dramatic and engaging and not cheesy and predictable.
Follow Amber L. Bogins on Twitter @AmberLaShaii
About Post Author