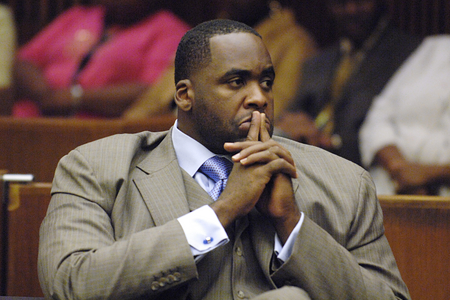 I recall almost a decade ago when former mayor Kwame Kilpatrick at the height of his powers walked up to me at the Charles H. Wright Museum of African American History and asked "Can a brother get a good word from you?" My response was, "Mr. Mayor, give me something good to write about."
Apparently, the mayor was concerned that he wasn't getting favorable press from the media and that journalists like myself and others were too critical of his administration, and thus he needed a break. This morning, standing in front of the federal courthouse in downtown Detroit waiting for the historic verdict in Kilpatrick's corruption trial, I could not help but recall all of my interactions with the man who once wielded so much power that anyone close to him was to be avoided.
When the verdict came in rendering the former mayor guilty on 24 counts and his longtime friend Bobby Ferguson guilty on nine counts of racketeering and extortion, the most serious charges, it ended an important chapter in Detroit's history. His father, Bernard Kilpatrick, was found guilty on one tax charge. Plain and simple, the Kwame Kilpatrick era has officially ended and now Detroit must move on to the next chapter, and we will know this week if that chapter will mean the era of an emergency manager. Kilpatrick had so much potential when he first took office and because of political power and hubris, wasted that potential.
In 2004, Kilpatrick was a keynote speaker at the Democratic National Convention in Boston with then Sen. Barack Obama. Years later, Obama went to the White House and Kilpatrick sunk into insurmountable legal troubles that now will send him to prison for a very long time. How quickly things change and to see history come full circle in this way is a big loss for Detroit because the former mayor was talented but decided to use his talents for something other than upholding the public trust.
The level of arrogance since the Kilpatrick scandals began that the former mayor displayed was unbelievable. Even when his mounting legal troubles began he arrogantly told the news media, "Detroit, you've set me up for a comeback," hoping to be vindicated from all his issues that were at the center of the public corruption trial. Our elected officials should be held to a higher standard, and the lesson here from the Kilpatrick verdict from a very diverse jury is that those who swore to uphold public trust must do so diligently.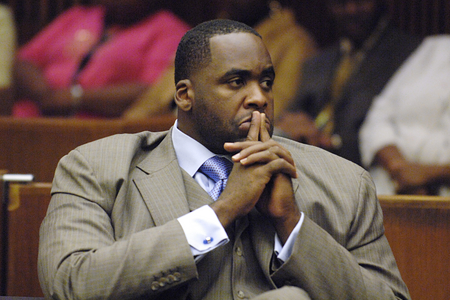 This case will go in the annals of history as one of the most riveting trials in public corruption. The diverse jury, which included African Americans and a Hispanic, sent a strong message: No more business as usual in Detroit
About Post Author