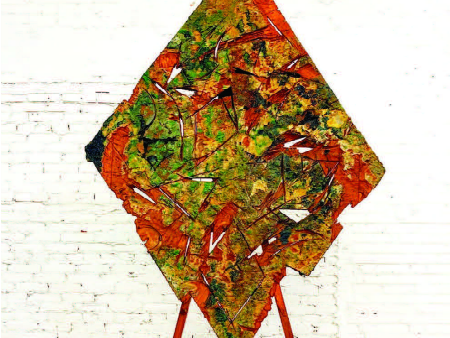 In the late 1960s, revolution was in the air in Detroit, with radical leftist activity focused in the Cass Corridor, a rundown area near Wayne State University. Feeling the revolutionary spirit, local artists also broke with tradition by overthrowing Modernism, the dominant New York art critical theory of the post-WWII era, and ushered in the Post-Modernism pluralism seen throughout American art in the 1970s.
Conventional wisdom has held that these Cass Corridor artists, as they have come to be called, were essentially "urban expressionists," responding to the decay and danger of post-industrial Detroit, a thesis most thoroughly set forth in "Kick Out the Jams," a 1980 exhibition at the Detroit Institute of Arts. "Subverting Modernism: Cass Corridor Revisited," a much-needed scholarly reappraisal of this art movement, debunks this notion, positing instead that each Cass Corridor artist created his or her own individual styles and meanings, cross-fertilized at times by the work of his or her fellows.
While early pieces in the show push hard at the boundaries of Modernism and Minimalism, other works break forth from these limitations to create meanings of great universality, such as our need for shelter or the persistence of the life force, both human and otherwise. Many of the works speak of Detroit, both in its industrial and post-industrial stages, but they also encompass and transcend the specifics of time and place and address issues that have significance for all humans, such as violence and vulnerability, the presence or absence of order and structure in nature and human life, and our millennial old desire to make music and dance. Thus the exhibition has been divided into eight thematic sections: "The Critique of Pure Painting and Sculpture," "Minimalism/Industry," "Complexity," "Violence, Destruction, Decay… and Renewal," "Vulnerability," "Shelter," "Music/Dance/Industry" and "Nature/Geometry."
"Subverting Modernism" is a multi-year collaboration between Eastern Michigan University, the Wayne State University Art Collection, which is lending most of the works in the exhibition, and Central Michigan University.
The exhibition and accompanying 100-page catalogue allows art lovers to see important Detroit art that is not usually accessible to the public. EMU art history professor Dr. Julia R. Myers's extensive research, which included interviewing the artists, consulting hundreds of newspaper articles from the late 1960s and 1970s, and using archival materials in both Washington, D.C. and Detroit, makes for a thoroughly new look at the exciting work of these important Detroit artists. Dr. Myers says, "The work of the Cass Corridor artists is important because it demonstrates that high quality, meaningful art can and was created in locales outside New York City, a fact that has been consistently ignored by art historians with their New York-centric bias."
The work of Dr. Meyers is commendable and this flourishing of artistic expression in a city not traditionally viewed as an "art center" should be recognized, valued, and prized, as this exhibition will do.
The exhibit will run from March 11 through April 28 at EMU's University Gallery, 2013 900 Oakwood St, Ypsilanti. An opening reception at University Gallery will take place on March 20 from 4 to 7 p.m. A special lecture, "Envisioning Real Utopias in Detroit," will be conducted by Vince Carducci at the EMU Student Center, room 310 A, at 6:30 p.m. A film screening of "Images" from Detroit's Cass Corridor, by Kathryn Brackett Luchs and Shaun Bangert, will be held at the Halle Library Auditorium on March 27 at 5:30 p.m.