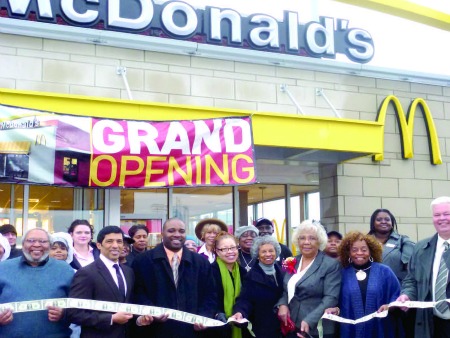 "Why not go out on the limb, isn't that where the fruit is?" To some this may be just a quote but for McDonald's owner-operator Yvonne Knox, these words are the daily mantra that has fueled and inspired her remarkable business journey. These words speak to walking out on faith and taking risks to achieve ultimate success, something that has been second nature to Knox since the beginning of her entrepreneurial career, 31 years ago.
Clerk, receptionist, teacher and assistant principal are job titles that Knox at one point in time held, but her passion to become an entrepreneur would lead her to what has been her longest and what she considers her most fulfilling career. "I was the first African American woman in Michigan to own a McDonald's restaurant, a feat that certainly didn't come without adversity and obstacles." But not one to give in to challenges, Knox remained steadfast and motivated to change the perceptions of women business owners that existed at that time. "My biggest challenge as a woman owner certainly was networking but as more women began to become operators, we were able to work together to create our own networks and opportunities."
With those obstacles and roadblocks behind her, Knox now strives every day to leave a positive mark in the lives of her crew and employees, as well as the customers and community that she serves. "My goal each day is to create an environment and experience that is enjoyed by my customers and employees," she says. Knox prides herself in having an open door policy with her staff and creating opportunities of engagement and fellowship between crew members. "My managers and I recently started a reading club with the local library, among other programs that work to bring the crew as well as the community together after work hours."
Not to be overshadowed by her presence within her restauramt, Knox is just as involved with her surrounding community. "I'm on the Board of Directors for the YWCA and Detroit Community Initiative as well as involved with the NAACP and March of Dimes." It's evident that Knox is no stranger to community outreach and she says the same goes for every local McDonald's owner-operator. "Myself and the other Detroit owner-operators are all about supporting the community, because the community consistently supports us," she says. Some of their community initiatives include partnering with local shelters to feed the homeless, donating food and coffee for events like Mack and Third Live and helping students in the Detroit Public Schools.
Why McDonald's? This is a question that Knox is familiar with but throughout the years her answer remains the same. "I chose McDonald's because of the positive impact it has and continues to have on the community. Since being a part of this organization, I've had the ability to provide so many jobs and opportunities and make a difference in the lives of so many people. And I can't express how much that means to me."
When she's not running her business and managing her crew of 72, Knox says she "loves to travel, read and spend time with her family." And though, she doesn't plan on leaving the business anytime soon, Knox says that when she does one day retire from the Golden Arches, she hopes to leave behind the legacy of striving for perfection. "I want African American girls who strive to become entrepreneurs to always follow their dreams and their heart and to embrace both the good and bad and most importantly find a mentor that can help them along the way."
Knox has had the pleasure of witnessing the evolution of McDonald's throughout the years and is even more excited to see the company's future growth.
"Though McDonald's continues to change and evolve, one thing remains constant and that's the commitment to great service, great food and being deeply rooted in our great community," she said.
About Post Author