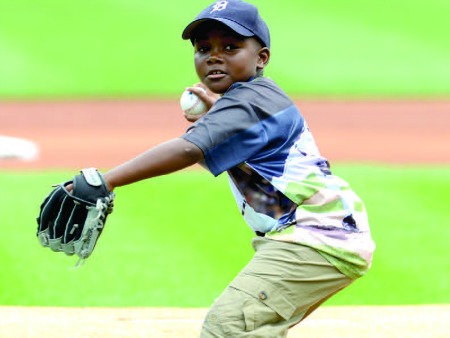 The Detroit Tigers are giving young fans a chance to be a part of the excitement of Opening Day. The Tigers are now accepting nominations for children ages 5-14 who are interested in participating in the Detroit Tigers "Kids Opening Day" on Sunday, April 7. The Tigers will host the New York Yankees. On Opening Day, 21 winners will receive four complimentary tickets to the game in addition to having the opportunity to participate in one of the following ways:
• Ceremonial first pitch (one child)
• Announce the starting lineup of Fox Sports Detroit (one child)
• Announce the starting lineup on 97.1 FM The Ticket (one child)
• Announce the starting lineups on the Comerica Park Public Address (two children)
• Announce the first two Detroit Tigers batters in the first inning (two children)
• Honorary ticket takers (two child­ren)
• Honorary ground crew (two children)
• Honorary kids take the field (nine children)
• Lineup card delivery (one kid)
"Kids Opening Day" will mark the first "Sunday Kids Day" promotion from the baseball organization of the season. During each Sunday home game, any kid 14 and younger will receive a free promotional item, free rides on the Comerica Bank Carousel or the Fly Ball Ferris Wheel, get their face painted and have a chance to win a bicycle. And then there is the traditional "Kid Run the Bases" after the game.
In order to enter, a parent or legal guardian must submit a 250 word or fewer essay answering the question, "How do you and your child pledge to live a healthy lifestyle this summer?" Kids are allowed to write the essays, but it must be submitted by a parent or legal guardian.
The first "Every Kid, Every Sunday" giveaway for children attending the game will be a Kids Opening Day Magnet Schedule.
For more information, including official entry rules, and to submit a nomination, visit tigers.com/kidsopeningday. The deadline for submissions is March 22 at 5 p.m.
About Post Author