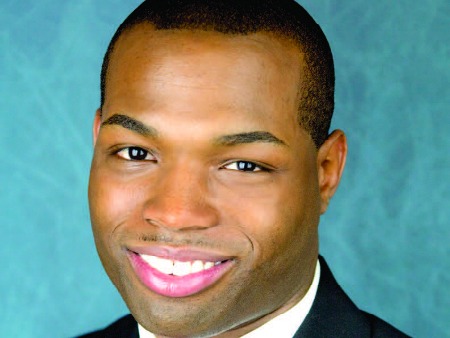 He was never supposed to make it. They were never supposed to succeed. He is Bryant George. They are Alonte Sims, Tywonn Mitchell, Curron Thomas, Scott Jackson, Donald Owens and Dominick Altman. Black boys! The odds are dismal for a Black boy growing up in the inner city of Detroit, with meager resources, not a lot of guidance, an inferior education and not enough money to live on.
George defied the odds; he beat the streets. "The streets, where just making it to the age of 25 is quite an achievement compared to the majority of my childhood peers who are now incarcerated, deceased, or stuck" says George.
He used his athletic skills to create a path to success out of a seemingly hopeless situation. In high school, George received a Real Life 101 scholarship, laptop and a personal mentor. Madonna University took a chance on him. He was admitted, received a scholarship and competed on the Crusader basketball and cross country teams. With a 4.0 GPA his last two years, George was inducted into two national honor societies at Madonna. A criminal justice major, he earned his bachelor's degree in 2010. He was the first minority student to intern with the U.S Marshal Service, United States Secret Service and Bureau of Alcohol, Tobacco, Firearms and Explosives Agency.
Today, George works diligently and with great passion, giving back to Detroit and his alma mater. He serves as mentor, leader, and father-figure for 17 at-risk young men, who are currently pursuing four year degrees at Madonna University. And although, nationally, African American male students have a 35 percent graduation rate while attempting a four-year degree, under George's leadership, six finished on the Dean's List and to date the retention rate is 100% Through his role as an admissions officer and coordinator in the Office of Diversity and Multicultural Affairs at Madonna, George is pushing harder; the third group of students are anxiously waiting to begin their college careers at Madonna in the fall of 2013. "To recruit, enroll, and retain these students is an honor from God, and I take no credit for this kind of service," says George.
So what's his formula? "These young men lack discipline, someone they can continuously depend on, and the passion to acquire knowledge," says George. He, along with Madonna University faculty, staff, and current students, try to instill these traits. The Real Life 101 program is their mentor village off campus.
George keeps the students busy. They meet weekly (a session that requires a tie and white shirt) to discuss the past week's successes and challenges. There are church services, football games, conferences on success and leadership, and community activities, such as Bridging Lost Gaps (BLG), a pre-college program originated by George.
Through the BLG program, current students become guest speakers as they bring their college experience to Detroit public school students from prior events such as the Real Life 101 annual gala, professional development sessions hosted by Compuware Corporation, and the Mentoring Today's Youth dinner with former Indianapolis head coach Tony Dungy and Sid E. Taylor.
"I don't think they (students) really appreciated what I was trying to teach them about succeeding at real life until Thanksgiving Day (2011), when we fed the homeless and visited a juvenile detention center," says George.
He knew he was succeeding when he received a call from a mother thanking him, "My son doesn't want to come home," she said. "You may have saved his life and another statistic on the local news broadcast."
"Leaders think and talk about the solutions, followers think and talk about the problems. I have to be a part of the solution by all means" says George.
George's mentor, Dr. Terry Gordon, said, "It doesn't get any better than this. I mentor Bryant through some of life's hurdles and he turns around and gives back in a tangible, meaningful way."
Some see stories, on the nightly news, that involve "at risk" youth getting into trouble, and they only hope that someone will do something.
Bryant George has decided to act. His mission is to take boys and make them real men.
About Post Author