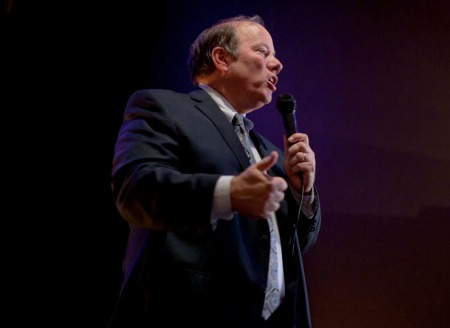 After officially announcing his run for Detroit mayor, Mike Duggan hit the pavements to connect with potential voters.
Not even a snowstorm could stop the candidate's momentum last week.
Recently, Duggan spoke one-on-one with residents and students at Wayne County Community College District in Detroit. The public forum moderated by Michigan Chronicle's Senior Editor Bankole Thompson, gave participants a chance to ask their most pressing questions about Detroit's future and how Duggan plans to get the city back on track.
When asked his motivation for entering the race, the mayor hopeful kept it short and sweet.
"I came here from my own conclusion."
Born and raised in Detroit, Duggan described his unwavering loyalty to the city. It is one that has existed since his college days as a law student at the University of Michigan in Ann Arbor.
"My friends all wanted to go to Los Angeles, Chicago, Atlanta. I only wanted to be one place. I wanted to be in Detroit."
Referencing his past positions, he noted that each one has been in close radius to the city's center. Duggan even pointed out that his last five careers were within two miles of WCCCD's downtown campus.
Duggan's resume stands out even among Detroit's most devoted. He worked as a county attorney and Deputy Wayne County Executive before managing the SMART bus system. Perhaps his most recent positions are what he's well known for: serving as Wayne County Prosecutor and later, CEO of the Detroit Medical Center. It's a track record that might be hard to keep up with, but Duggan candidly described how he plans to restore Detroit to its greatness.
A city desperate for answers seeks someone who can deliver undisputable results. Duggan talked specifics, drawing parallels between Detroit's current condition and that of the DMC in 2003 before his takeover. He used the example to describe just how he intends to implement improvement.
The DMC's history is one that most Detroiters are familiar with. What used to be three-hour emergency room waits was a main factor in driving patients away from its facilities. Under Duggan's management, the "29 minute" program guaranteed patient care before paperwork, ultimately bringing patrons back to the city's hospitals. So much so that doctors returned, and others began to restore belief in the medical system. As a result, the Vanguard Company made the largest investment in Detroit's history, putting over $800 million into DMC renovations.
"When people said you need to close down the hospitals in Detroit and move them to the suburbs, we proved them wrong," said Duggan.
Noting the transformation of the DMC, Duggan also reiterated that his team members came directly from the community. He made a convincing case for the fact that he has what it takes to change Detroit's current state of affairs.
"The kind of mayor you need happens to match up with my background."
When asked about the biggest challenge he anticipates facing in the election, Duggan cited the reality of racial division. He, however, expressed that he believes building a rapport with residents will overcome this would-be barrier to the mayoral seat.
"If we're going to get past the racial gap, we can't do it in 30-second TV ads. We've got to do it in rooms like this," said Duggan.
The mayoral candidate has forged relationships within the community by meeting individuals and addressing their concerns with real, tangible solutions. Duggan mentioned he has held regular "house parties" with residents, visiting salons, churches and even the basements of local homes.
"The people in this city are fighters, they are extremely angry about the violence and want to be safe," said Duggan.
When asked about Forbes' recent rating of Detroit as the "Most Miserable City", Duggan expressed a sentiment shared with most residents, and the need to end embarrassing narratives about the city. He however, recognized that action is what's needed to get the job done.
"You don't turn around your image by hiring PR firms. You start when you stop embarrassing yourself, and make new accomplishments," said Duggan.
Acknowledging Dave Bing as a friend, he nevertheless, identified what he considers the current mayor's critical mistakes that he hopes to avoid if voted into office.
"There's an art to turning around government and management. We need a turnaround administration and it's not something that fits his strong suit."
Duggan also protested the possibility of an emergency financial manager, asserting there's no evidence that proves the success of such an appointment. He referenced the cities of Benton Harbor and Ecorse, pointing out that after having undergone a state takeover they continue to struggle years later. Duggan instead offered what he feels will be a more appropriate solution.
"You must face reality as it is, not as you wish it to be."
Duggan recounted the current mayor and city council's failure to address the deficit "honestly". He expressed that there is a strong necessity to take action.
After answering questions from the moderator, Duggan then responded to inquiries regarding such issues are crime prevention, budget cuts, abandoned homes, and building the economy. He addressed each area, again calling attention to his previous work and the progress made during that time. Duggan also expressed how he will use that experience to respond to Detroit's challenges if elected to office.
The prospective mayoral pick suggests three major goals he will work on in his first year that include lowering the rate of violent crimes, turning the street lights back on and getting abandoned buildings occupied. Duggan beliefs that if the above-stated can be accomplished, the community's overall feeling will greatly change in the next few years.
Despite growing concerns about the city's financial state, Duggan reiterated that all is not lost.
"We can do a lot more with the resources we have."
Detroit is in major need of a turnaround. Is Mike Duggan the man to do it? More events like the forum at Wayne County Community College District will allow Duggan to engage directly with residents and potential voters.
Will a proven track record and connecting with the community be enough to sway voters in the 2013 election?
Follow Britney Spear on Twitter @MissBritneySp