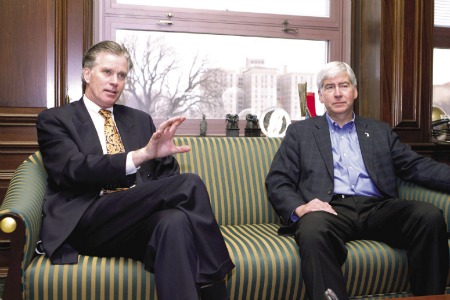 MICHIGAN CHRONICLE: This announcement of anemergency manager appears to be a build-up. The next phase is an appeal from the city, correct?
GOV. RICK SNYDER: They have the right to appeal. So really it is their option. There is a mandatory 10-day waiting period. They need to appeal by Monday, March 11. And in the letter we transmitted we already said if they are appealing we'll schedule a meeting for Tuesday, March 12.
MC: Can this appeal process extend beyond the required days?
RS: No. It's 10 days. The way I view it, we don't have the luxury of having this drag out. This is a financial emergency.
I think there is plenty of time to respond, time to have a hearing and what I would expect to happen after that, unless there is something that really changes things, it would be a fairly fast process after the 12th.
MC: Are you open to revisiting some of the agreements in the Consent Agreement that were early on the table to prevent an emergency manager?
RS: The hearing itself is actually not about new ideas or new thoughts. The hearing is legally set up to say there is some part of the report that is factually wrong or they disagree with. And they want to come show evidence why that's misplaced. But in addition to that I'm open to listening to the mayor and the city council to bring through ideas and thoughts. But again, if you look at it I think it would have to be something quite dramatic because we had a Consent Agreement that wasn't very successful.
MC: Bringing in an emergency manager is a bold statement. If it goes wrong it has major implications across the board. How much thought has been given to this?
RS: We've given it a lot of thought and that's why the process that we put in place in identifying this person was quiet rigorous. Because if you think about it, there is not a ready job market for emergency managers. I've got high confidence in the top candidates and the other candidates who are part of this process.
MC: As governor of the state of Michigan, is this a high stakes gamble for you?
RS: It's high stakes. I wouldn't call it a gamble. I'm not a gambler. There is risk to everything you do and it's about managing risks. And it is high stakes because you are talking about people. This isn't about dollars to me. This is about 700,000 of my customers that we want to give the best return to. I don't believe they've been getting what they deserve in terms of good service.
ANDY DILLON: I think there is more risk to do nothing, and especially for the residents that don't see police, don't have lights on. So it's all about managing risks but doing nothing has a greater risk.
MC: You said you've been meeting with leaders in Detroit. What are they saying?
RS: I think people are ready for this because in a lot of respects the comments I get kind of mirror some of the loud protestors that they are never going to like this. But the message I get from a lot of people is they are not thinking about all the pieces of how it's happening. They just want the problem solved. I think there are a lot of people who have been living this too long and seeing services continue go downhill. We need a positive vision for a growing Detroit and we need to show results on how that's happening. That has to include the neighborhoods, not just Midtown and downtown. That's something that people are going to have a hard time believing at the start because they've gone through so many tough years of difficult times.
MC: What do you say to those who say the expeirence of the Detroit Public Schools is not a good litmus test for emergency manager for Detroit?
RS: The past is the past. In many respects a lot of those years weren't good years with a manager or without a manager in the Detroit Public Schools. But since the time I've come into office and Roy Roberts (DPS emergency manager) has come into place, I think there's been a different dynamic in Detroit Public Schools. There are a lot of good things going on in the Detroit Public Schools. I think Roy has been accepted by a lot of people in the community and is respected as someone looking out for the kids. I think that's a dramatically different situation than if you look at the history before.
MC: Mike Duggan, when he announced his run for mayor, challenged you, saying the cities of Benton Harbor and others touted as sucess stories really don't have any indicator showing immmediate positive results with an emergency manager. How do you respond?
RS: If you look at a number of mayoral candidates, they are coming out against this in some fashion. Unfortunately I view that as a politics going on. The fact of the matter is, does anyone think this isn't an emergency? And to say should we just wait another series of months? That's a tough call. I can't in good faith say that. The Review Team didn't say that. We need to act. The real question is instead of saying why it's not going to work. I would hope people running for office say I want to be part of the solution for Detroit. I want to help solve problems. The mayor and the city council can be involved in this, but they are going to help define how much they are going to be involved by how much we are all working together. Let's work together as we have in other communities. AD: Most of the items in the Consent Agreement were put there by the mayor and the city council. We weren't telling them what to do to the city. It's almost a year and they still haven't done….A lot of it is structural barriers that are in front of the mayor and the council. This actually could be a powerful tool for them to realize their vision too. MC: Is this a challenge for you?
RS: This is gigantic challenge and this is going to be really hard work. I look at it as hard work that hopefully has an outcome that changes what's been going on for 20-50 years