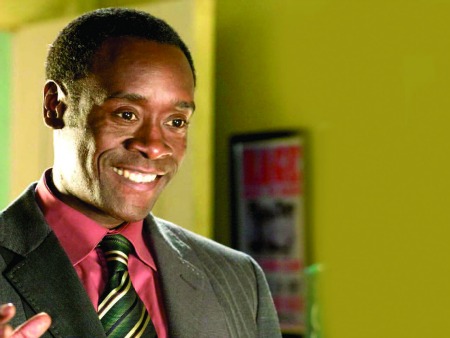 When you see Don Cheadle on the screen, or when his name is brought up in conversation, certain words might come to mind. They include "talented," "convincing," "versatile," "consistent" and you could add "highly visible" — in the Samuel L. Jackson, Denzel Washington, Morgan Freeman sense.
You might have seen him recently in "Flight," the riveting hit thriller starring Denzel Washington. This spring, if sci-fi is one of your preferences, you will see Cheadle in "Iron Man 3" with Robert Downey Jr., reprising the role he had in "Iron Man 2."
How good is Don Cheadle?
Consider this: an Academy Award nomination, nearly a dozen NAACP Image Award nominations, two Gold­en Globe awards, three Emmy nominations and a half-dozen Screen Actors Guild nominations (including a win). And that is just a small part of the story.
We mentioned "versatile" at the outset of this story. Well, Cheadle had something interesting to say about that:
"If you were to look at my résumé in total, you would see a lot of things that are kind of all over the map."
THIS IS an actor who will not allow himself to be bored.
"I've been doing this since I was 10 years old, inhabiting different people and playing different roles," he said. "All these years later (he is now 48), there's still the same sort of excitement I get from it. It's fun to inhabit different characters and play different roles. It's all in that panoply of acting."
He continued, "For me, it's always just been about finding material that I think is creative, interesting and fun, something that can expand me and I can do something with."
One thing the public is not aware of is how many bad scripts are written and out there in circulation at any given time.
CHEADLE put it bluntly: "Most scripts are terrible. Most projects are bad. That's the way it is."
The "actor for all seasons" has had the good fortune to be hired for an array of quality roles; moreover, he has never made a movie that would give him anything to be ashamed of.
Donald Frank Cheadle, Jr. was born Nov. 29, 1964 in Kansas City, Mo. His family (parents and three children) moved around a lot. They were living in Denver, Colo., when he graduated from high school in 1982. He knew early on that acting would be his profession. After high school, he enrolled at the California Institute of the Arts and graduated with a Bachelor of Fine Arts (BFA) in Acting.
Among Cheadle's earliest work (1984-1992) were the films "3 Days," "Hamburger Hill," "Colors" and "The Meteor Man," and the television shows "L.A. Law," "Night Court," "Fame" and "Hill Street Blues."
HIS FACE was becoming increasingly familiar, though not necessarily his name, but that would soon change, despite the shortage of opportunities for Black actors and actresses, and others of color.
"We're always trailing, as far as the amount of roles that are written for us and the films that are being made that have Black characters in them," he said.
"I also believe that you are what you have to defend, and if you're a Black man that's always going to be the bar against which you are judged."
But even so, he is sure that there are better days ahead.
THE MOVIES Don Cheadle has been featured in from 1996 to the present is impressive. Among them:
• "Rosewood"
• "Boogie Nights"
• "The Rat Pack" (TV movie)
• "Bulworth"
• "Traffic"
• "Rush Hour 2"
• "Swordfish"
• "Oceans Eleven"
• "Hotel Rwanda"
• "Crash"
• "Iron Man 2"
• "The Guard"
• "Flight"
… and more.
Cheadle's television credits include "ER," "The Fresh Prince of Bel-Air," "The Bernie Mac Show," "Picket Fences," "House of Lies" and "CSI: Crime Scene Investigation."
One long-discussed film project that Don Cheadle would like to see come to fruition in the story of jazz icon Miles Davis (with Cheadle in the lead role).
"Now is a good time," he said. "Ten years ago would have been a good time. And 10 years from now, it will still be a good time to see a dynamic, entertaining movie that's wall-to-wall Miles Davis, where the music will hopefully spark a desire to know more about the man."
In a way, the title of one of Miles Davis' most famous albums is applicable to the emergence of Don Cheadle in the early 1980s, and to his personality: "Birth of the Cool."
(Jason Donovan compiled most of the information for this story.)
About Post Author