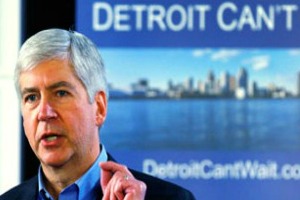 March 11 has been announced as the official deadline for the city to appeal Governor Snyder's declaration that Detroit is in a financial emergency.
The governor's latest announcement is one that could lead to the appointment of an emergency financial manager. Not everyone in the city wants to see that happen, and some plan to fight any attempt at its occurrence.
There are citizens who feel that Detroit's finances have been exaggerated, citing the city has not defaulted on any of its debts. Will organizing be what it takes to have their voices heard?
Local community leaders and activists have summoned residents to take action, encouraging them to gather together, march, and rally to protest the governor's decision. It will require a community's effort to avoid a state takeover. Yet, even as a collective effort, will it be enough to fight off what now appears to be an interminable conclusion?
As more Detroiters come forward to express their opinions, the gap between those in favor and those against the appointment of an emergency financial manager grows wider. For ones opposed to the governor's decision, one important question persists.
Can Detroit fix its financial crisis on its own?
Follow Britney Spear @MissBritneySp
About Post Author