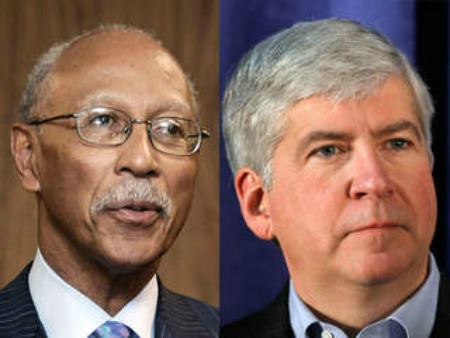 Will Detroit get an emergency financial manager?
That question might be answered sooner than previously expected.
Mayor Dave Bing has announced that Governor Rick Snyder will come to Detroit on Friday, Mar. 1 to respond to the city's current financial situation.
It is expected that Snyder will reveal whether or not he accepts the recommendation of the state-appointed review team. Declaring Detroit in a state of "financial emergency", the team suggested that a manager is needed to remedy the city's challenges.
Mayor Bing expressed his willingness to accept help from the state, explaining that he feels the city cannot come out of its current condition by itself. He answered "no" when asked about the possible naming of an EFM, asserting that it is Snyder's announcement to make.
If the governor appoints an emergency financial manager, the city has the legal right to appeal his decision within 10 days. They may also request a hearing to review the findings of the state-appointed team.
One major concern that an EFM would face is the mounting disapproval of residents and community leaders alike.
While some argue that it's what's needed to improve the city's finances, others don't want to see the officials they voted for lose their power. There are individuals who don't want to witness a takeover, citing other possible solutions. At the same time, many think it's the quickest resolve.
Tomorrow's announcement is slated to take place around noon in a town hall style forum at Wayne State University. Stay tuned to the Michigan Chronicle for further details.
Follow Britney Spear on Twitter @MissBritneySp