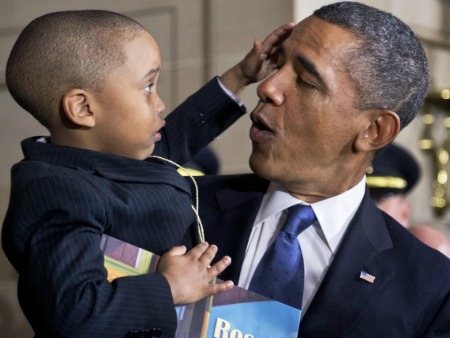 As black history month comes to a close, 2013's collective homage can be sealed with a shining moment for a pioneer in civil rights.
On Wednesday, feb. 27, the statue of civil rights icon Rosa Parks was unveiled at the U.S. Capitol. President Barack Obama spoke to the crowd and acknowledged the tremendous role the key figure played during the civil rights struggle. The audience included many of Parks' surviving relatives, most of whom currently live in Detroit.
One moment that stole the show was an adorable photo snapped of President Obama with one of the legendary leader's youngest family members. It shows 3-year-old Terrell Anderson Jr. in the arms of our nation's leader as he curiously touches his hair.
The young child may not yet comprehend who he got a chance to spend quality time with on that historic day, the moment he shared with the president is part of a larger one that expands our nation's history. It continues to bring to life the vision freedom fighters like Rosa Parks had nearly half a century ago.
Follow Britney Spear on Twitter @MissBritneySp