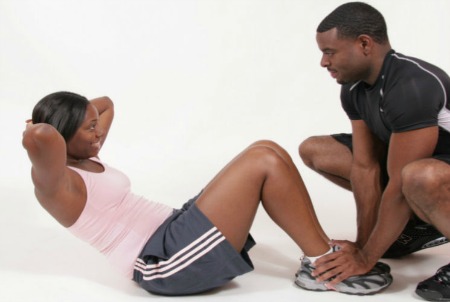 We've all heard of the fountain of youth. If you could visit it, would you go? I took a trip to the fountain 10 years ago and my life has never been the same.
I was 24 when I started this journey back in 2003. I feel better than ever and have more energy, strength and ambition than I did as a young man.
Before I began my fitness journey, I was on a path to destruction.
I wasn't morbidly obese, taking any medication for diabetes, high cholesterol, or high blood pressure, nor did I have major health concerns — but I was on the road to destruction.
I knew what it felt like be the "big guy," with limited or no clothing options at regular department stores. And, I knew what it felt like to want to be thin and in desperation to turn to fat burners and fad diets.
Most people don't change until they are forced to change, and I was no different. But in 2003 I made the "wise" decision before I was forced to make it. I decided that I didn't want any physician to tell me that I had to stop eating this, or start taking certain medications, or that I had to come in to for test x, y, and z. I decided that I wanted to be in shape and look better!
I wanted to control my own life and I wanted to be fit! I tried a lot of things to help with the weight loss, but I didn't see success until I stopped trying things and became committed and "Just Did It!"
It's now 10 years later and I'm still setting and reaching fitness goals, but my goals today aren't just about better looks. I want a longer life and more happiness, too! Healthy eating and exercise makes you feel better and will help you live longer, and those are some of my new goals.
ARE YOU "ACTIVE", OR ARE YOU FIT?
People have a lot of reasons why they don't exercise.
Often times their reason is self-inflicted: "I don't have the time."
Sometimes it's procrastination: "I'm going to start as soon as tax season ends."
And occasionally the reason is downright funny: "I don't like to sweat."
As someone who's been there myself, I can tell you that you can't excuse yourself from exercise, which is vital part of cultivating a strong, healthy and attractive body.
Exercising just two to four times each week makes dramatic improvements in daily life, renewed energy and strength.
Some feel that playing golf, tennis or Wii alone will make them "fit."
But, as a personal fitness trainer, I've learned that you can't become fit simply by being active. It's when you achieve fitness that you actually can become more active.
Many golfers cannot touch their toes in a simple flexibility test. And some tennis players cannot jump rope for more than 60 seconds. And despite claims, I've encountered active Wii players who cannot even manage a one-mile jog.
The majority of these so-called 'active' people encounter injury after injury.
To be lean and to maintain a level of fitness there is no substitute for a consistent, challenging exercise program. It's the only way, folks.
To truly be fit is when your body is able to do whatever you ask of it. This comes from a combination of flexibility, strength and endurance.
So, do you exercise?
Or are you fooling yourself with the idea of 'being active'?
How do you feel about your current level of fitness? Are you able to do each and everything you want? Or do you end up opting out of activities that you know would be too challenging?
If you've used the excuse of 'being active' in the past, take a minute to reconsider your position. Don't bank on your 'active' lifestyle with the hope of true results.
As they say…there's no trial run in the game of life.
Editor's note: Sterling Wise is a certified fitness consultant and owner of The Wise Group. For additional information, contact Sterling at 877.402.3348 or visit: www.thewisedecision.com