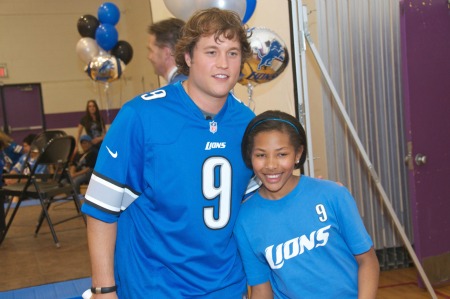 One girl challenged the habits of nearly 250,000 viewers with her video blog post last year and it, in turn, changed her life.
Detroit Lions Quarterback Matthew Stafford is now on a first name basis with Hailey Samples, a Farmington Hiills school student at Warner Upper Elementary, who "friended" Stafford following her first place win in Blue Cross Blue Shield's "Make the Play for Healthy Habits" video contest last year.
The win earned Samples a guest video blog spot on A Healthier Michigan, a site that gets thousands of hits daily, and a stage appearance with Stafford at a school assembly, where Hailey had the opportunity to interview the sports icon about his own healthy habits, while sharing a few of her own.
Imagine how that experience will look on Samples' college application!
Response to the social media contest was so powerful that BCBSM is sponsoring its return in 2013.
"Making the play" – something quarterback Matthew Stafford does week after week each season with the Detroit Lions – is something he couldn't accomplish without good nutrition and a healthy lifestyle. That's why he agreed to be a part of the initiative that encourages kids to create their own winning habits.
CALLING ALL CONTESTANTS
Sponsor BCBSM is inviting kids in grades four through eight to make their own play at encouraging healthier habits in the second annual "Make the Play for Healthy Habits" video contest.
The student that submits the winning video will get to star as a host of his/her own healthy lifestyle video blog series on aHealthierMichigan.org, and will receive a school assembly featuring Stafford.
Video submissions are being accepted through March 29. In April, 10 semifinalists will be selected and notified and their video submissions will be posted on aHealthierMichigan.org for a two-week public voting period. The winner will be announced in early May.
"Last year, we had such a tremendous response from kids across Michigan to this contest. We are excited to do it again," said Andrew Hetzel, BCBSM vice president for corporate communications. "Kids are naturally creative.
Working with their parents and teachers, Blue Cross wants to see their creativity come to life with the goal of making their schools and communities healthier."
Video submissions should be no more than two minutes long. They should creatively answer the question "What would you do to make Michigan healthier?" and include the student's perspective on how themselves, their family, teachers and classmates can live a healthier life. Students should explain how they would communicate healthy lifestyle choices with their families and fellow students.
Editor's Note: Students can submit a video directly on aHealthierMichigan.org/kidcontest, or upload their video to YouTube and submit their link online. For more contest information, visit: aHealthierMichigan.org/kidcontest.