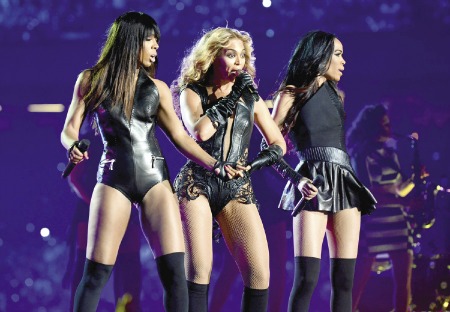 Beyoncé sure knows how to light up a stage and get an audience's adrenaline pumping. Or, to put it another way, no one is better at "gettin' the party started."
Case in point: The Super Bowl XLVII halftime show. Now that was exciting! Entertainment at its best. Jay-Z said recently that his wife is "the hardest working woman in show business," and that she is. The performance was also sexy, but not trashy.
Everything in her show is rehearsed to perfection and nothing is left to chance. It was incredible how much was fit into a show that lasted less than 15 minutes. It was a feast for the eyes and ears. The performance can be viewed on YouTube.
The highlight was, of course, the reunion of Destiny's Child. When Kelly Rowland and Michelle Williams dramatically joined Beyoncé Knowles on stage, it was electric. They gave "Bootylicous" and "Independent Women" a workout, as well as Beyoncé's "Single Ladies (Put A Ring On It)."
However, I think the show should have ended with an uptempo song rather than "Halo."
It is amazing how small-minded some people can be, and downright mean, both traits so often fueled by jealousy.
Jennifer Hudson is looking great these days, yet there are those (women mostly) who have been critical of her and her Weight Watchers commercials, when they should be proud of her, for her accomplishments and the fact that she is an inspiration to so many.
Rather than viewing the commercials for what they essentially are — an invitation to lose weight and improve health — these detractors say the commercials are intimidating to girls and women who are overweight, placing unrealistic expectations on them. Plus they feel that Hudson is receiving excessive media attention.
And Mary J. Blige, who also got herself together, physically and otherwise, says there are women who say they actually liked her better when she was laden with problems, including bad relationships and drugs.
The "mean­ies" should look up words like "fairness" and "support."
EXACTLY when is the very long awaited Anita Baker album, "Lately," going to be released? The single of the same name was released in August. The fans are getting anxious.
Kudos to Michelle Williams of Destiny's Child for taking the high road by not responding to the verbal attack launched against her by relatively new singer Keyshia Cole. Sometimes the best way to respond to ignorance is with silence.
Usually, when singers, rappers, etc. attack another artist, the purpose is to generate publicity. The hope is that the targeted artist will fire back, which will in turn result in talk on radio, television, the Internet, etc. It would not be surprising to learn that Cole has a new album coming out soon.
IT IS a great honor for Stevie Wonder to have had his classic hit, "Signed, Sealed, Delivered I'm Yours," featured so prominently in Barack Obama's presidential campaigns.
Unfortunately, the song's other three writers, Lee Garrett, Wonder's then-wife Syreeta Wright and his mother, Lula Mae Hardaway, who was not a songwriter but contributed what would become the title of the song, are no longer with us.
SLANG comes and goes, but a select few slang words endure, so much so that they are no longer considered representative of a time but have instead become a part of the lexicon.
"Cool" is one such word. It is unlikely that anyone today would use the words "groovy" or "outtasight," but "cool" is different.
It comes as no surprise that the word, in this context, has its origins in the African American community, dating way back to the 1930s/40s in the jazz world. It has been linked to one jazz musician in particular, saxophonist Lester Young.
As you've most likely heard by now, Bobbi Kristina Brown, the daughter of Whitney Houston and Bobby Brown, is unhappy about her grandmother Cissy Houston's book, "Remembering Whitney." She said the book is "disrespectful" to her mother and she "won't tolerate it."
Cissy Houston loved her daughter, but knew she had to be honest about the bad things as well as the good. My guess is that she told the truth and, as we all know, some people cannot deal with truth. Yet, Bobbi Kristina defending her mother is understandable.
BETCHA DIDN'T KNOW…that Sylvia Robinson wrote "Pillow Talk" for Al Green, but he chose to not record it, believing it was too overtly sexual. So she recorded it herself, as "Sylvia," and had a No. 1 hit.
MEMORIES of songs seldom heard today, submitted by reader Wilfred Kelly: "The Nitty Gritty" (Shirley Ellis), "It's All Over" (Walter Jackson), "That's What Girls Are Made For" (the Spinners), "Misery" (the Dynamics), "Out of Sight" (James Brown), "Paradise" (the Temptations), "Follow Your Heart" (the Manhattans), "A House Is Not A Home" (Mavis Staples), "Back Up Train" (Al Green), "Seesaw" (Don Covay).
BLESSINGS to Curtis Boone, Yvonne Gullick, Deena Dunham, Rodney Stevenson, Chris Campbell, Monica Morgan Holiefield, Deena Peace, Jacque Thomas, Alexis Williams, Keith Owens and Marva Stafford.
WORDS OF THE WEEK, from Will Smith: "Throughout your life, people will make you mad, disrespect you and treat you badly. Let God deal with that because hate will consume you."
Let the music play!
(Steve Holsey can be reached at Svh517@aol.com and PO Box 02843, Detroit, MI 48202.)
About Post Author