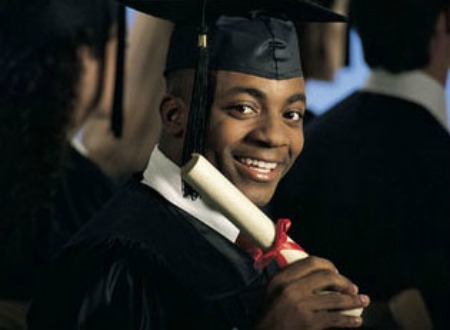 Lansing – The statewide 4-year graduation rates for students expected to graduate last spring increased to 76.24 percent, up 1.9 percent from the 2011 rate of 74.33 percent, according to data released Wednesday by the Michigan Center for Educational Performance and Information (CEPI).
"These numbers reflect the highest rates we have seen since we started reporting the data using a cohort methodology," said CEPI Director Thomas Howell. "This methodology allows us to track individual students from the first time they enroll as ninth-graders and has resulted in a more accurate measure of high school success for our students."
More than 53 percent of Michigan's school districts saw higher graduation rates, including many of the largest districts. Detroit City School District showed noticeable improvement, boosting its rate by a full 5 percent, from 59.7 percent to 64.7 percent. Of the 14 school districts with 1,000 or more students in the senior class, all but three improved their graduation rates between 2011 and 2012.
The largest increase in graduation rates throughout a 5-year period were seen in several racial and ethnic groups. Rates for black students reached 59.93 percent last year, an increase of 3.64 percent since 2008. Hispanic student rates were at 64.3 percent, up 3.97 percent. This year's rate reflects that 73.52 percent of multiracial students graduated in four years, increasing the annual rate by 3.52 percent since 2008.
"This is more positive news for Michigan public schools," said State Superintendent Mike Flanagan. "This is reflective of how our teachers and students are succeeding with the rigorous Michigan Merit Curriculum and being better prepared to continue Michigan's economic comeback. We must stay on this positive course and keep our standards high and Michigan Merit Curriculum intact."

Four-year graduation rates are an important school accountability measure adopted by the state and aligned with the National Governors Association Graduation Counts Compact. CEPI also publishes additional valuable information about students who stayed in school longer to earn a diploma in five or six years, found at www.mischooldata.org.
The website provides parents, educators, and policymakers with multiple levels of school data. After clicking on Student Counts/Grad Rates, visitors can perform inquiries by school, district, intermediate school district, or statewide, as well as compare one to another. The site provides 4-year, 5-year, and 6-year graduation rates by gender, race/ethnicity, or by the following demographic categories: economically disadvantaged, English language learners, homeless, migrant, and students with disabilities.
CEPI is a division of the Michigan Department of Technology, Management and Budget. It was established under the State School Aid Act to coordinate the collection, management, and reporting of all public education data required by state and federal law, in a manner that reduces the administrative burden on reporting entities, complies with privacy laws, and provides useful reports to policymakers, educators, and residents. CEPI is leading efforts to collect and connect longitudinal data that follows students from preschool through postsecondary education and into the workforce, enabling the evaluation of approaches that improve outcomes for Michigan students.