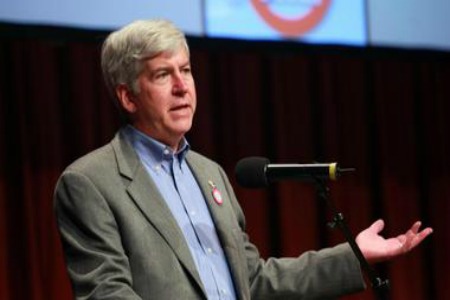 Michigan Gov. Rick Snyder is drawing fire for the way he allocates state education spending in his new budget.
His 2013-2014 fiscal year budget dips into the state's K-12 fund to meet costs for the state's four-year universities and community colleges. He's proposed allocating nearly $400 million from the K-12 School Aid Fund, the Detroit News reports. That's approximately 3.5 percent of the fund's total annual allowance of about $11.4 billion.
Of this money, $200 million is being taken for the state's 15 public universities and $198 million for community colleges — respectively adding to $1.43 billion in appropriations for universities and $336 million for community colleges over the coming fiscal year.
The unusual allocation also occurred in the past two budgets created by Snyder, a Republican who has drawn ire from the state's education unions over controversial right-to-work legislation passed last year. Typically, funding for those institutions has been drawn solely from a state's general fund.
"I consider this a shell game — you pull from K-12 education to shore up a General Fund that doesn't have as much money as a School Aid Fund," William Mayes, executive director of the Michigan Association of School Administrators, said to the Detroit News.
Gov. Snyder told the paper's editorial board he was simply following the state's constitution.
The budget also proposes funding increases of about two percent for all three institutional categories — K-12, community colleges and public universities.
According to Crain's Detroit, the new budget will require Michigan's universities to keep tuition increases below four percent in order to qualify for state funds.
Gov. Snyder has also proposed creating a new Michigan Office of Great Start to spur early childhood development efforts. Its projected yearly budget would be about $209 million, with $115 million coming from the School Aid fund and $41.2 million from the general fund.
Steve Cook, the president of the Michigan Education Association, said that while educators supported expanding early childhood education, he wonders whether it is a priority for Snyder.
"We are concerned that adequate funding for a quality education isn't reaching past pre-K for too many of our children," he said in a release. "The governor and his allies in the Legislature slashed K-12 funding by $1 billion while giving CEOs over $2 billion in tax breaks. We urge our state's leaders to restore every penny taken away from our local schools, so that every child has the opportunity to succeed from preschool through college."
http://www.huffingtonpost.com/2013/02/11/michigan-education-spending-_n_2663885.html?utm_hp_ref=detroit