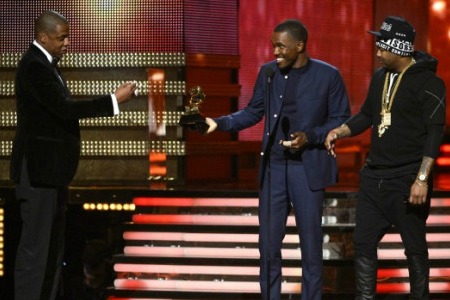 As expected, the Grammy Awards gave a lot of love to Jay-Z, Kanye West, Adele and Frank Ocean, who marked a breakthrough year with six nominations, two wins, and his debut awards performance with the song, "Forrest Gump."
Taking place at Staples Center in Los Angeles on Sunday, host LL Cool J began the annual event by introducing himself as emcee of Music's Biggest Night, referencing the influence of Michael Jackson in his life, his love for vinyl, and the passing of Whitney Houston the year prior. Adele received the first award of the evening for Best Pop Solo Performance for her live edition of "Set Fire to the Rain," and told press afterwards that having a baby in her life has only positively affected the Grammy experience.
"I've been up since 6AM, so I'm quite tired, but it's nice," the 24-year-old singer said. "I haven't been as stressed out this year because you have to prioritize, and balance everything when you have child."
Questioned about her new album, Adele commented that she wasn't far along, but taking meetings in L.A. between the Grammy Awards and Academy Awards.
"I've been out of the loop, really, I've been singing my baby nursery rhymes, so I don't really know what's cool or not," she said.
The British soul singer and first time Academy Award-nominee also made remarks about her upcoming performance at the Oscars, teasing, "I want to s*** myself."
Best Urban Contemporary Album, a new category this year, was presented by Nas and Kelly Rowland, and went to Ocean for "Pyramids," his first win at the ceremony. Ocean thanked his mother, who was teary-eyed in the audience, along with his managers, group Odd Future, and record label, Def Jam.
Following the presentation, Rowland addressed talk of a potential Destiny's Child reunion tour, "If something like that comes up in conversation – it hasn't – but then we'll see what happens."
Jay-Z and Kanye West took home early awards for Best Rap Performance and Best Rap Song for their hit "N***** in Paris," with producer Hit-Boy on site to accept the honors during the pre-telecast ceremony. They later received the award for Best Rap/Sung Collaboration along with Ocean and The-Dream for "No Church In the Wild."
"I would like to thank the swap meet for his hat," Jay-Z joked about The-Dream's choice of headwear.
The-Dream later commented that he got the hat at Spencer's Gifts, "a very bad store for you, young people," and gave credit to Ocean.
"Frank was signed to a producer of mine, Tricky Stewart, a while ago, so we kind of knew exactly what he was, and who he was, so we weren't surprised [by his success]," he said. "He's here now…Just sort of a friendly competition."
The-Dream mentioned his current focus was working on Pusha T's new album, and joining West in Paris this March to assist on the rapper's forthcoming release. While Yeezy was noticeably absent from the ceremony, songwriter Malik Yusef Jones, who contributed to West's record "Mercy," also gave a hint of what's to come.
"Remember black music," he said. "The good and the bad; the grim and bright. It's a throwback to that era, and a distillation to the modern era."
He also attested to West's grueling work habits.
"Working with Kanye is brutal, it's torturous; he is a perfectionist," Jones admitted. "We work in Hawaii a lot, and it's not like being in Hawaii. We work in Paris and it's not like being in Paris…He's just hard to work with. He says 'no' to 100 things."
Rihanna, who won the Grammy Award for Best Short Form Music Video for her song "We Found Love" with Calvin Harris, made a soulful performance of her song "Stay," and later led a tribute piece to Bob Marley, singing his classic "Could You Be Loved," with sons Ziggy and Damian Marley, as well as Sting and Bruno Mars. Justin Timberlake took the stage to perform his new single "Suit and Tie" with special guest Jay-Z, who stepped onto the stage from his seat in the audience. The pop singer followed their performance with the debut of a second track, "Pusher Love." Miguel and Wiz Khalifa brought hip hop into the mix with their performance of "Adorn." LL Cool J, Chuck D., Z-Trip, Travis Barker and Tom Morello closed the show with "Whaddup."
Earning their first Grammy Award, the Robert Glasper Experiment was honored with Best R&B album for Black Radio, a collection of songs Glasper noted were all recorded "on the first take."
"We didn't overthink it, we let the music take over. I believe the music is smarter than us," the singer said, describing the spontaneous nature of the band's work as a collective. "We're all jazz musicians together, but we embody all of black music – R&B, rap, funk – we've never ignored that side. We have no problem infusing all those things because we're comfortable with all of them."
LeCrae received the Grammy Award for Best Gospel Album for his release, Gravity, a rap record which he said wasn't necessarily intended to be classified as Christian, but was gratefully embraced by the gospel community.
"It was an honest album," the 33-year-old noted. "I'm honest about my faith. I'm not afraid to say I'm a Christian."
Best Rap Album went to Drake for Take Care, and electronic DJ Skrillex won three Grammy Awards, adding to the three he earned last year. After receiving his prizes, he acknowledged the fusion of dance music and hip hop, speaking specifically on his collaborative project with A$AP Rocky.
"Electronic music and hip hop are so similar," Skrillex noted. "It's rooted in the same stuff. I have this song with A$AP Rocky out, and we're going to Rio next week to shoot this crazy video with Chris Robinson, the legendary hip hop director…It was bound to happen."
And perhaps most excited of all was pop-alternative artists Gotye and Kimbra, who received the Grammy Award for Record of the Year from their idol Prince.
"We both forgot about speeches," they laughed.
https://thegrio.com/2013/02/11/backstage-at-the-grammy-awards-the-word-on-adele-and-kanye-wests-new-albums/#s:jay-z-frank-ocean-the-dream