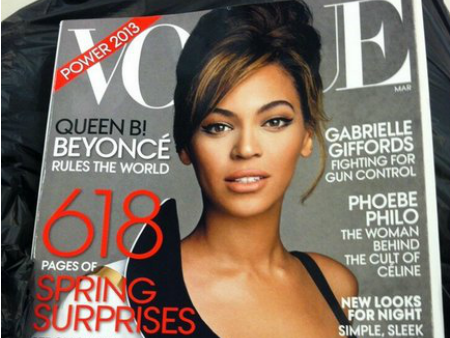 It's here!
Beyoncé's Vogue March 2013 cover has arrived in all its leaked glory, coming on the heels of rumors that she'd landed the coveted March issue. This time the rumor mill was true: There she is, posing in Givenchy in a photo posted by Twitter account BeyonceLite.
The March cover, as we've noted before, makes perfect sense. As anyone occupying Planet Earth knows, Beyoncé recently pulled off a masterful performance at the Super Bowl halftime show and is set to debut her HBO documentary on February 16. 2013 is clearly Beyoncé's year, we're all just living in it.
Appropriately, the Vogue cover headline reads "Beyoncé Rules The World," which is the most accurate thing we've read today. Or ever. Check out the leaked pics via Twitter below. Are you digging Bey's Vogue cover?
https://www.huffingtonpost.com/2013/02/09/beyonce-vogue-march-2013-cover_n_2654445.html?ir=style&utm_campaign=021013&utm_medium=email&utm_source=Alert-style&utm_content=FullStory