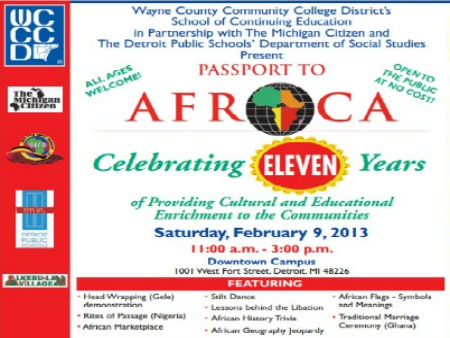 The average Detroiter might never get the opportunity to travel halfway across the globe. Yet, you'd be surprised what fun and exciting ways residents are experiencing culture in their own neighborhood.
On Saturday, Wayne County Community College District will hold it's eleventh annual 'Passport to Africa' Celebration. The event incorporates food, fun, and entertainment to grant attendees with an up close and personal experience of African culture. It's free of charge and open to the public.
The series is just one of the college's many initiatives to provide not just students but the entire community with an educational experience that is both entertaining and engaging. Under the leadership of Chancellor Dr. Curtis L. Ivery, WCCCD continues to expand its reach by providing exciting opportunities outside of the classroom.
Learning truly does lead to a better life. Expanding our knowledge of the world around us is one of the best steps we can take toward educational enrichment. Thanks to institutions like WCCCD, you don't have to travel too far to do so. The opportunity is right in your backyard.
'Passport to Africa' takes place at the Downtown campus of WCCCD on Saturday, February 9, from 11 a.m. to 3 p.m. For more information and to register for the event, visit www.wcccd.edu or call 313-496-2600.
Follow Britney Spear on Twitter @missbritneysp