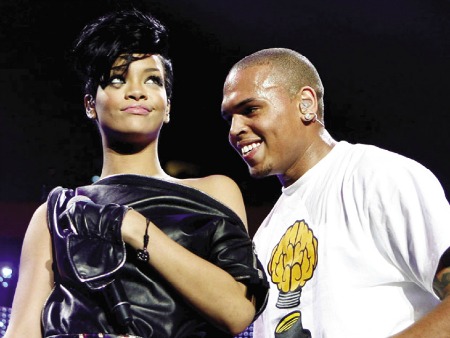 In a recent interview, the omnipresent Rihanna once again made it clear that she still loves the hot-tempered Chris Brown, despite being badly roughed up by him a few years ago.
"He's not the monster everyone thinks he is," she said. "He's a good person. He has a fantastic heart. He's fun to be around. He made a mistake and he's paid his dues. It makes me feel great to know that people care.There's nothing I could say to convince people right now, but we're in a great place. I guess it's just something that will have to show in time."
Rihanna says if anything happened like that again, she would "just walk away."
That's all sounds good and I am glad that Chris Brown has gotten on with his life and career, but he clearly has anger control issues.
Recently he got into a physical altercation with new singer Frank Ocean and before that, with rap star/actor Drake.
And let's not forget the time he threw a chair through a window at the studios of ABC because he didn't like a question he was asked during an interview on "Good Morning America."
Best of luck to Rihanna and Chris. Seems they will need it, but I once heard a song that said, "Love is stronger far than we."
MOST PEOPLE assume that "At Last," the classic love ballad that instantly became the signature song of the late, great Etta James when she had a huge hit with it in early 1961.
However, "At Last" actually dates all the way back to 1941 when it was recorded by the Glenn Miller orchestra with vocals by Pat Friday and Ray Eberle for a movie titled "Orchestra Wives."
Rap star/actor Common (real name: Lonnie Rashied Lynn) is among those who believe that people are wrong to set entertainers up as "role models." I tend to agree. He said, "I encourage people (in show business) to be who they are where they are. You can't put up a false image for other people."
Kudos to Jet magazine for stylishly reinventing itself, but recently it featured a story about players in the NFL using Viagra, supposedly to enhance performance on the field. The headline was "Go Hard." That was in very poor taste, and I am sure that Johnson Publications founder John H. Johnson would not have approved.
SEVERAL years ago, a friend of the Houston family and Whitney Houston's first cousin, Dionne Warwick, told me that "Cissy Houston (Whitney Houston's mother) "would rather have a root canal" than even speak to Bobby Brown."
That seems to be verified by Cissy Houston in her new memoir, "Remembering Whitney."
In addition to confirming that she has no contact whatsoever with Brown, she says that while Bobby did not get her daughter hooked on cocaine, he was a factor in the duration of that addiction.
Were it not for being with Brown she believes, "It would have been easier for her to get sober and stay sober. He never seemed to be a help to her in the way she needed."
She is probably right about that.
But Houston also said, "Everybody is responsible for their actions, up to a point."
I have issues with the "up to a point" part. I think people are completely responsible for their actions, and believe that Whitney Houston and Bobby Brown were two like-minded people who found each other.
TINA TURNER, who has been living in Zurich, Switzerland with her longtime partner, German-born record executive Erwin Bach, since 1986 has decided to become a citizen of that country. Her petition was approved, and she passed the civics test and the interview.
"I'm very happy in Switzerland and I feel at home here," said the legendary star. "I cannot imagine a better place to live."
Good for her. People should do as they please, and that includes where they reside. Among others who moved to other countries are Nina Simone, Jimmy Ruffin and Detroit's own Harvey Thompson. Harvey, the great jazz singer, is doing great, professionally and personally, in Japan.
BETCHA DIDN'T KNOW…that Lola Falana, the sexy dancer, singer and actress who was at her peak in the 1960s and 1970s, is completely out of show business. Her time is occupied with The Lambs of God Ministry, a Catholic apostolate she founded. (Her real name, by the way, is Loletha.)
MEMORIES: "When Will I See You Again?" (the Three Degrees), "Runaway Love" (Linda Clifford), "Didn't I (Blow Your Mind This Time)?" (the Delfonics), "How Do You Keep the Music Playing?" (Patti Austin and James Ingram), "Cool" (the Time), "Everybody Loves the Sunshine" (Roy Ayers), "Fight the Power" (the Isley Brothers), "No More Tears (Enough Is Enough)" (Barbra Streisand and Donna Summer), "Turn Your Love Around" (George Benson), "Mr. Melody" (Natalie Cole).
BLESSINGS to Willie Williams (thanks for the great letter!), Derek Devine, Karen Dumas, Claudette Robinson, Earline Franklin, Michael J. Powell, Galen Pauling, Frances Nero, Derek Dirckson and Valerie Lockhart.
WORDS OF THE WEEK, from Free Spirits United: "If it involves learning or developing your mind and spirit, or experiencing something new, no decision should be based on age."
Let the music play!
Steve Holsey can be reached at Svh517@aol.com and PO Box 02843, Detroit, MI 48202.