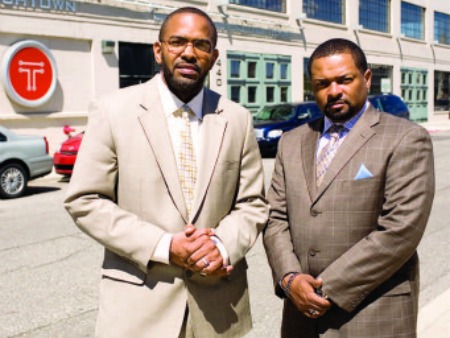 Let it be known that there is opportunity for the entrepreneurial spirit in Detroit. Black-owned IT firm IC Datacom recently secured a $50,000 small business loan from the First Step Fund. IC Datacom, which houses its office inside of Tech Town, Wayne State University's business accelerator, is a full service IT company that markets and distributes leading edge technology, software, hardware and services throughout the United States and the world for K-12 schools, non-profit organizations, small businesses and other entities.
Owners Dwayne Carson and Terrence Willis have been operating out of Tech Town since 2005, making them one of the first companies to call Tech Town home.
IC Datacom has had many opportunities operating out of Tech Town. It acquired Tech Town as a client as well as the neighboring Next Energy Corporation and various other companies within the Tech Town facility. In addition to networking possibilities, Tech Town disseminates key information for small businesses through multiple programs. It is through these programs that Carson and Willis heard about the First Step Fund. It is an early stage investment fund in partnership with the Invest Detroit Foundation, Tech Town, Bizdom, Ann Arbor SPARK and Automation Alley. It services emerging and newly-formed high growth businesses in Southeast Michigan, giving preference to women and minority business owners. Carson can attest to First Step Fund and Invest Detroit's willingness to help minority entrepreneurs as this is the second loan that IC Datacom has been awarded.
Carson said that IC Datacom plans to use the money to take advantage of the new technology on the market to provide better services to their clients as well as expand their staff.
"The best part about being an entrepreneur is providing services to others and developing talent. The hard part is managing the day-to-day responsibilities. It's the gift and curse of being an entrepreneur."
While $50,000 is not the end all be all for the IC Datacom and its operations, it will go a long way to helping the company grow as a leading IT firm, capable of not only delivery exceptional service and products to its clientele, but also stimulating the economy with job creation.
For more information about IC Datacom, please visit https://icdatacom.com/services.html.
About Post Author