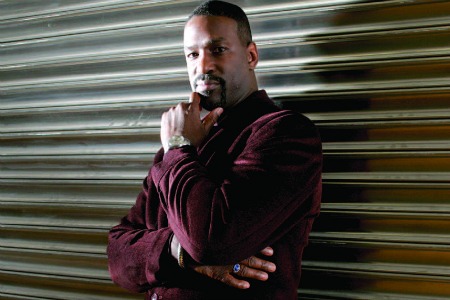 Michael Burton learned the alphabet by repeating the letters stamped on the back of the automobiles he saw driving down street in his native Lansing, Michigan.
"B-U-I-C-K"
"F-O-R-D"
"O-L-D-S-M-O-B-I-L-E"
"C-H-E-V-R-O-L-E-T"
Both his parents worked blue-collar jobs at Oldsmobile, his father in the forge. Michael Burton was born, raised and bleeds cars, but he wanted to be in art.
At age 10, he won an art competition and an interest was peaked.
"I won a G.I. Joe doll," he said. "One of the good ones, the big ones, not those puny little things they have now."
At 13, he wrote to the Human Resources department at General Motors with some sketches. To his surprise, they wrote back. They liked his sketches and suggested classes, things to read, and a course of study that might one day get him a job at General Motors.
He still has the letter. It sits in his office at GM where he is the global director of interior design for Buick, worldwide.
"Artistic talent and passion for cars make me very focused," he said.
That's an understatement. In highschool Burton received a four-year scholarship to the Center for Creative Studies sponsored by Ford Motor company. After school he was hired at Ford and worked for two and a half years before he was laid off due to restructuring.
Sensing a need for change, he then moved to Tulsa, Oaklahoma, where he "busted some suds," went to Bible college and became an ordained minister And then a friend called.
"Where have you been," he asked. "Everyone has been wondering where you are."
Burton was soon back on a plane to Detroit and after interviewing with all of the Big Three, he took a job with Chrysler, becoming their first African American designer.
He moved to General Motors in 1999 and has been with them ever since. He has served as a lead exterior designer for the Cadillac SRX and SST, and other Cadillac vehicles and as a design manager for GM's prestige and performance platforms as well as director of Extended Range Electric Vehicle Interior Design.
"My God given gift is a sense of aesthetics," he said.
But his passion? His reward? Mentorship.
"My greatest reward is from African American mothers who call me and ask, 'Can you talk to him?'" he said. "When we see ourselves it encourages us to inspire to another level."
As a hometown success story, Michael Burton's work reaches wide outside the design studio. As a minister, a musician and maybe most importantly a mentor, he is not only improving the look of automobiles, but improving today's youth as well.
"You should be reproducing yourself in someone else," he said. "Mentorship is the epitome of who I am."
About Post Author