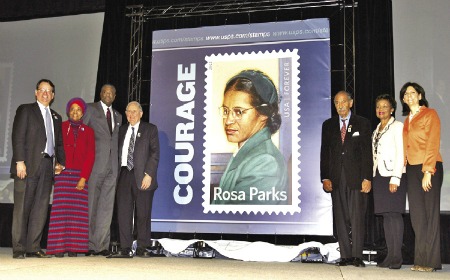 SPECIAL BLACK HISTORY REPORT
Rosa Parks, the mother of the Civil Rights Movement, would have turned 100 on Feb 4.
The courageous woman's refusal to give up her seat to a White man on a municipal bus led to the famous Montgomery Bus Boycott, which launched the Civil Rights Movement and placed Dr. Martin Luther King, Jr. into the national spotlight.
Mrs. Parks' memory and indefatigable spirit were the focus of her birthday celebration at the Henry Ford Museum where the bus that symbolizes her resistance to racism is stationed as a historical exhibit.
On Monday, civil rights leaders from around the country as well as observers of America's long battle for equality came to the Henry Ford to celebrate Mrs. Parks' legacy in the same year as the 50th anniversary of the historic March on Washington.
Julian Bond, former chairman of the NAACP, historian Douglas Brinkley and others participated in wide ranging discussions about the impact Mrs. Parks had not only in this country, but around the world as well.
President Barack Obama, in a proclamation to mark the day, applauded Park's courage.
"Though Rosa Parks was not the first to confront the injustice of segregation laws, her courageous act of civil disobedience sparked the Montgomery Bus Boycott — 381 days of peaceful protest when ordinary men, women, and children sent the extraordinary message that second-class citizenship was unacceptable," read the proclamation.
"Rather than ride in the back of buses, families and friends walked. Neighborhoods and churches formed carpools.
Their actions stirred the conscience of Americans of every background, and their resilience in the face of fierce violence and intimidation ultimately led to the desegregation of public transportation systems across our country.
"Rosa Parks' story did not end with the boycott she inspired. A lifelong champion of civil rights, she continued to give voice to the poor and the marginalized among us until her passing on October 24, 2005."
To recognize the day, President Obama said, "As heirs to the progress won by those who came before us, let us pledge not only to honor their legacy, but also to take up their cause of perfecting our Union."
As part of a national recognition, the U.S Postal Service honored Rosa Parks with a Forever stamp.
Many have been recalling the simple life Mrs. Parks lived and when she said, "I would like to be known as a person who is concerned about freedom and equality and justice and prosperity for all people."
Congressman John Conyers, Jr., dean of the Congressional Black Caucus who gave Mrs. Parks a job in his office to ensure that she would receive a retirement package, also praised her humility despite her larger than life role in the Civil Rights Movement.
Just 42 years old in 1955 when she moved from being a seamstress to a global icon for the stand she took that day in Montgomery, Rosa Parks' impact continues to inspire generations.
E-mail bthompson@michronicle.com.