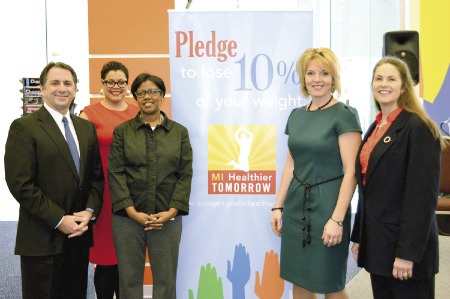 SPECIAL TO THE CHRONICLE
The average workplace isn't what it used to be. It's becoming a much "bigger" place, according to experts who agree that significant increases in the number of sedentary jobs is contributing to Michigan's growing obesity pandemic.
"On average, Michigan workers sit an average of 9.3 hours per day," said Tricia Keith, SVP, corporate secretary and services, Blue Cross Blue Shield of Michigan.
Given recent research showing that sitting just 6 hours a day cuts five years off life expectancy, there's real cause for alarm. Add Michigan's rising obesity rates to the mix and you have the makings of a healthcare crisis, according to a group of business leaders supporting MI Healthier Tomorrow, a campaign launched by the Michigan Department of Community Health (MDCH) to encourage overweight Michigan residents to shed 10 percent of their excess body weight.
Today, more than 30 percent of Michigan's workforce is obese. Left unchecked, the statistics are projected to reach 50 percent by 2030.
Obesity-related costs in Michigan are staggering. In 2008, Michigan spent an estimated $3.1 billion on obesity related medical costs. If current trends continue, it's estimated that by 2018 Michigan will spend $12.5 billion on obesity-related medical.
If you're an employer, odds are that obesity is already costly.
Obesity-related absenteeism costs employers as much as $6.4 billion a year, health economists led by Eric Finkelstein of Duke University calculated.
Most obese women miss 9.4 more days of work annually due to obesity-related conditions. Obese males miss 5.9 days a year, according to reports.
The indirect costs associated with obesity-related pain, shortness of breath and other obstacles or "presenteesim" are attributed with a 30-day loss in worker productivity, costing employers more than $3,000 per very obese worker per year. The total cost of presenteesim due to obesity is $30 billion.
When Michigan's employers calculate the total costs of obesity associated with increased absenteeism and increased healthcare coverage costs, the numbers are staggering.
"More than 75 percent of chronic disease spending in Michigan is now associated with obesity, according to the MDCH.
"These kinds of statistics demand involvement, according to Tanya Heidelberg-Yopp, senior vice president community and diversity at Compuware Corporation and a MI Healthier Tomorrow workplace partner, which supports workplace wellness with a full gym and in-house cafeteria stocked with fresh foods and healthier menu options.
"A pledge to the MI Healthier Tomorrow campaign is as much as a public pledge as a personal commitment," noted the pledge participant, who demands that anyone who sees her with a French fry near her mouth this year knock it away."
The results of just a 10 percent drop in weight can make a big difference in participants' lives, according to Stephanie Stevenson, AVP of compensation and benefits at Quicken Loans and enthusiastic workplace participant partner.
Quicken Loans is providing support services from onsite health screenings to health and wellness activities, aimed at amping-up employee fitness and wellness goals.
For partner BCBSM, the effort is a part of the company's DNA, according to Keith. BCBSM infuses activity into its internal and externally-supported campaigns and is considered a model workplace among employers.
"Incremental change is an important part of any weight loss strategy," said Keith. "That's why we support MI Healthier Tomorrow, in addition to our own proprietary campaigns. Many people are surprised to discover what big impact even small lifestyle changes can make on weight loss goals.
"Drinking a couple more glasses of water daily, taking the stairs and parking in the back of the employee lot are easy to incorporate into our daily routines.
"If you incorporate these small things with other dietary and fitness activities, you will be surprised how quickly you can drop 10 percent of your body weight."