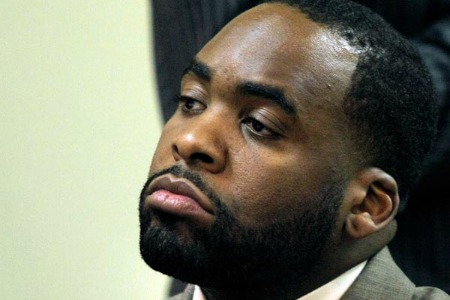 By Zack Burgess – CHRONICLE EDITOR-AT-LARGE
For once in his life, former Mayor Kwame Kilpatrick chose to remain silent, ironic for a guy known for his gregarious ways.
The defense rested its case Wednesday without any of the defendants saying a word to the jury.
"I am choosing not to testify," Kilpatrick said to U.S. District Judge Nancy Edmunds.
The case produced 80 witnesses and an enormous amount of physical evidence that included checks, bank records, text messages and wiretap recordings.
Apparently y all three men, Kilpatrick's father, Bernard Kilpatrick, and his longtime friend Bobby Ferguson were all advised by Edmunds, that had they chosen to speak, they could have been grilled in front of the jury about their pasts, including their criminal convictions that could have opened up some serious wombs.
Kilpatrick would have been questioned about lying on the stand about his affair with his ex-aide Christine Beatty. And his former stint in prison, which could have seriously prejudiced the jury. He also could have dealt with serious character issues, considering he was recently cited for various parole violations that landed him behind bars. Some of them occurred right in the middle of a federal trial, which is not good.
And let's just say pistol-whipping of an employee doesn't look very good for Ferguson, so he too chose to keep quiet.
Bernard Kilpatrick doesn't have any criminal convictions, but he was found on video and in phone recordings – allegedly taking bribes. Keep in mind, the government has to prove its case beyond a reasonable doubt.
If convicted, Kilpatrick; Bernard Kilpatrick, and Ferguson, could each face up to 20 years in prison. They are on trial in U.S. District Court on charges of running a criminal enterprise through the mayor's office that included bid-rigging and extortion.