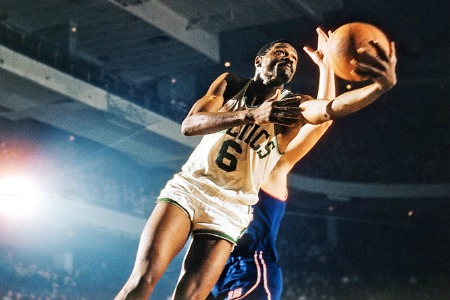 For most of my career, I have been blessed to see some of the greatest basketball players of our time. One my greatest honors was going to SLAM Magazine as a senior writer and then going on to cover the NBA for five years for some of our nation's best newspapers.
I wrote the first major cover story on Allen Iverson for SLAM Magazine. I was there when Grant Hill took the NBA by storm and I was blessed to see Michael Jordan win two of his six NBA Championships. The 17-footer in Utah was one of the most remarkable things I have ever seen in my life.
And while some of the guys on this list I never saw play, I can't help but give respect to the older guys who did. For Black history month, we decided to give you the top 10 African Americans to ever play in the NBA. Of course there are guys who didn't make this list, like Earl "The Pearl" Monroe, Clyde Frazier, Mayor Dave Bing and Wes Unseld. But the men on this list are truly the greatest to ever lace them up.
1. Bill Russell – 13 Championships and a leader for change.
2. Wilt Chamberlain – When old guys say he was the best…you have to listen.
3. Michael Jordan – Ushered in the modern athlete and was the epitome of cool.
4. Magic Johnson – Could throw a bounce pass the length of the floor and was just pretty to watch.
5. Kareem Abdul-Jabbar – The "Captain" always showed class.
6. Oscar Robertson – Basically evented the "Triple Double."
7. Shaquille "Shaq" O'Neal– The last great centers to ever play the game.
8. Isiah Thomas – The greatest small man to ever lace them up.
9. Kobe Bryant – Say what you want about this guy…he's flat out great.
10. LeBron James – As much as this pained me, I had to put this guy on here….because he has a chance to possibly be the greatest ever. He just has to keep winning.
About Post Author