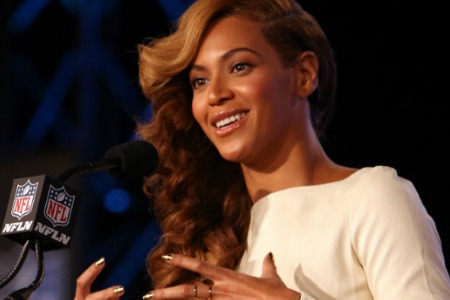 If you didn't know any better, you'd assume a random football game was taking place at the Beyonce concert this weekend. Truth is, the talented songstress' upcoming Super Bowl Halftime performance has taken complete control of the media buzz surrounding the event.
After all the hoopla surrounding her infamous lip sync of the national anthem at the presidential inauguration, spectators are especially eager to see how Beyonce will respond.
Who knew that the Pop superstar would get started so early on 'shushing' the scrutiny? At the official Super Bowl press conference held on Thursday, Beyonce began with a live rendition of the Star Bangled Banner. Her quick performance reminded fans all over the country that she doesn't need to sing over a tape to get the job done.
The effort to redeem herself from the inaugural madness, whether needed or not, has fans now more than ever eager to see what she's cooked up for football's finest night. Judging her track record, Beyonce is sure not to disappoint. The only question, will critics let her live a little in 2013? You're guess is as good as mine.
Follow Britney Spear on Twitter @missbritneysp