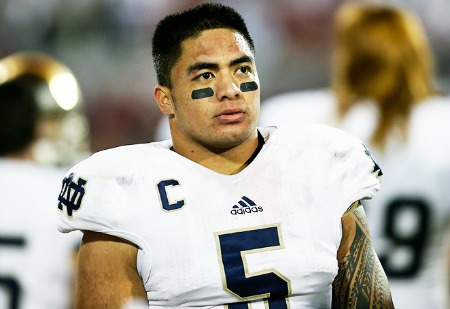 It seems that nowadays, more and more people are probing behind the computer screen to find love. Judging the recent popularity of MTV's show 'Catfish' coupled with the entire fiasco that surrounds college football player Manti Te'o, that fact is become increasingly apparent.
Recent events might have you eager to know the truth, and the real motivation behind one masquerading on the internet for romance. It is possible that even in the midst of a lie, a person's emotional connection with someone can be completely authentic?
If you ask the hoaxer behind the latest scandal, he would answer with an unwavering 'yes'. 22-year-old Ronaiah Tuiasosopo, who carried on a fabricated relationship with the Notre Dame linebacker via internet, has finally decided to come forward and tell his side of the story.
Tuiasosopo spoke with Phil McGraw in a television interview on Thursday to reveal that he fell in love with the Notre Dame linebacker while interacting with him anonymously over the internet and by phone. He claims that Teo knew nothing of the hoax. Perhaps the most shocking part of Tuiasosopo's confession, something even Dr. Phil has trouble believing, is his suggestion that he spoke with Teo while using his actual speaking voice. That's right, no female actor, according to the prankster.
As shocking as it seems, Tuiasosopo is not alone in his internet impersonating. 'Catfish' shows viewers that the issue is much more common than one might imagine. People all across the world are being duped by would be lovers they believed were 'someone else'.
Tuiasosopo's interview answers some of our most pressing questions as viewers. Yet even Part 2 of Dr. Phil's interview, which premieres on Friday, might never truly help us understand the reasoning behind it all.
We live in a world saturated with technology, and even the most intimate aspects of life, have fallen victim to the internet. Apparently, for some, love is just another link in that chain.
Follow Britney Spear on Twitter @missbritneysp