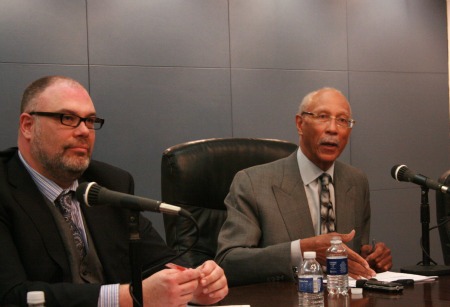 DETROIT—Mayor Dave Bing announced Friday that the city will close 50 parks and slash funding recreation centers this spring in wake of a failed lease agreement that would have made Belle Isle a state park.
Bing said the decision was a practical one and necessary in light if the city's financial crisis.
Since 2008 the city has slashed its number of operating parks from 317 to 57 amid budget shortfalls.
Bing said he was disappointed that the City Council failed to vote on a lease proposal from the state that would have saved the city more than $6 million annually. Now that the $6 million has to go to maintain Belle Isle, Bing says he is forced to close other parks.
"We looked a gift horse in the mouth. We had a deal that was workable, that was doable, that wouldn't close parks." Bing said. "We gotta stop all this wishful thinking, all this pie in the sky … when we thumb our nose at $6 million, it's nuts."
The city's recreational maintenance staffing capacity has plummeted from 205 in 2009 to 65 this year.
The city's island park covers 982 acres and takes up 36 of the city's 65 grounds maintenance workers, leaving 29 workers to cover all other city parks.
General services director Brad Dick said that the city is taking an approach based on Detroit Works Project framework to prioritize maintenance in parks in target neighborhoods that are more stable.
Of the 57 city parks that remain open, 19 of them will be classified as "premier" parks and 38 will be classified "limited service" parks. The list of premier parks includes Belle Isle, Hart Plaza, Clark and Palmer. These parks will have a more frequent ground maintenance rotation and additional site amenities such as tree plantings, herbicide sprayings, and flowerbeds.
Parks set to close include Chandler, Russell Woods, Sherwood, Cook and part of Rouge Park.
Harmonie, Grand Circus, Butzel Playground and Erma Henderson are among the 38 to be classified as limited service parks.
Recreation centers will also feel the effect of the cutbacks, which Bing estimates will save the city $6 million annually.
Recreation centers including Coleman A. Young, Adam Butzel and Northwest Activities Center will not be able to expand hours, enhance programs or hire key personnel as planned.
Council members voted 6-3 on Tuesday to table a decision on the proposed lease agreement citing that they wanted more information. After the vote, Governor Rick Snyder pulled the lease offer indefinitely.
Bing says he has no regret on how he handled the lease negotiations with council members saying they had "months" to decide. He said the park closures were not in retaliation to the council's decision.
"Every time we make a decision the city council comes back and says they wish we had done that, or they wish we had done this," Bing said. "There was a committee comprised of three city council people that did all negotiating all through the holidays. Then you get one of the key people off that committee that votes against it. Tell me what kind of sense that makes?"
Bing said he wasn't angry with council members, just disappointed. "We still have to work together," he said.
Bing said he had not spoken with Snyder since receiving a letter informing him that the lease deal was off.
When asked if he considered charging an entry fee to the island to raise funds, Bing said he didn't see it as a smart option.
The city's Program Manager Kriss Andrews said he conducted an analysis to see if an entry fee would be profitable only to find that the city does not have the bonding capacity for such a move.
"It would take an extreme amount of infrastructure and organization and effort by existing people that are already overrun with work," Andrews said. " The state has run multiple parks; they're very good at it. They got the borrowing ability, we don't."
Brad Dick said residents and visitors can expect closed parks to look "very bad" and that the decision "bothers all of us."
"They will look pretty awful come about June, July," Dick said of the city's parks slated to close. "They will have high grass probably about waist high and it's not just grass … it's going to become weeds with lots of trash in it. They're gonna look like vacant lots do."