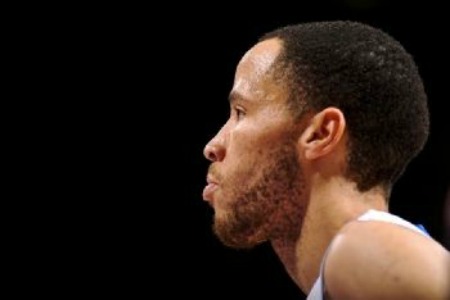 Tayshaun Prince isn't the guy you pick first when you play pickup. His game isn't flashy. He can't jump through the roof or shoot the lights out. He is the last link to the last championship the Detroit Pistons won. And now, in a move that will likely help the Pistons moving forward, he is gone.
Yesterday, the Pistons shipped Prince and Austin Daye to Memphis in a three-team deal that brings Toronto point guard Jose Calderon to Detroit. I think the move makes the Pistons a better team. It gives Brandon Knight an opportunity to play off the ball, where he's probably more comfortable, with Kyle Singler likely shifting to the small forward position. Overall it's a trade that probably needed to happen. The Pistons need to move forward, and Prince was not in the plans. But make no mistake about it: Tayshaun surpassed every expectation imaginable.
The Pistons selected Prince in the 2002 NBA Draft. His rookie season was quite pedestrian, until he came alive in the playoffs and sparked a Pistons' comeback, after trailing Orlando three games to one in the opening round. But he made his mark in Detroit sports history in 2004, with one of the more iconic plays this city has seen in a long time.
His block in game two of the Eastern Conference Finals, a game that Rasheed Wallace guaranteed victory in, saved the game and perhaps the series. The Pistons were up two when Reggie Miller cruised to the rim for an easy lay-up, with about twenty seconds left, which would have tied the game. And then Tayshaun appeared, seemingly coming from French Lick, to block his shot and stun the Conseco Fieldhouse crowd. Rip got the ball, was fouled, made some free throws; the Pistons won the game, the conference finals, and then the title.
A lot of criticism has made its way to Tayshaun's corner over the years. "He's too slow…He's too old…He's slowing us down." You hear it on sports radio, you hear it on television, and you hear it from passionate Pistons' fans who feel that way. There may have been bits of truth there. He doesn't move as swiftly as he once did, and he definitely is not getting any younger. But look at the first round picks in the five-year period surrounding Prince's draft, from 2000 to 2004. In 2000, the Pistons selected Mateen Cleaves. Nice player, great college career, but now he covers the team. In '01, they drafted Rodney White…he was never relevant in the NBA, and has played in Europe since 2005. The Pistons grabbed Tayshaun in '02, and Darko in '03. In '04 they didn't even have a first round pick; Boston had the pick stemming from the Rasheed Wallace trade.
Up until yesterday, of all the first round picks from the 2000-2004 NBA Drafts, only seven players were still on the roster of the team that drafted them: Andres Biedrins (Golden State), Dwayne Wade (Miami), Josh Smith (Atlanta), Luol Deng (Chicago via trade), Nick Collison.(Seattle/Oklahoma City), Tony Parker (San Antonio), and Prince. Now that list has six. But that's not a bad place to find your name. In an industry where loyalty is not very common, it's nice to know that the Pistons found a character guy like Prince, who just came to work every day and played. It's rare to do, for that long, with one team.
Tayshaun's probably not going to the Hall of Fame. His number likely won't hang from the Palace rafters. But his resume speaks for itself. He didn't miss a game from 2003-2009. He was a second team All-NBA defender four times. He won a gold medal with the "Redeem Team" in 2008, joining Grant Hill and Joe Caldwell as the only two Americans to win gold while playing for the Pistons. And he won an NBA Championship, with a starring role. The Pistons could have done a lot worse than Tayshaun Prince. He may never have been picked first, but he could play for my team any day.
https://detroit.cbslocal.com/2013/01/31/so-long-tayshaun/
About Post Author