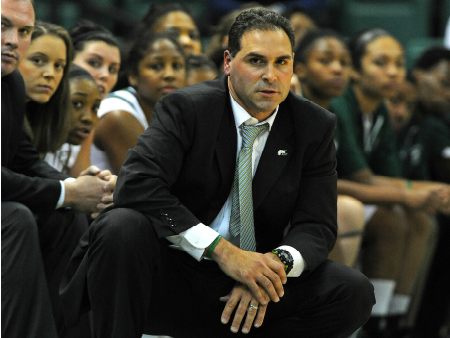 Tory Verdi, women's basketball coach at Eastern Michigan University, was born and raised in Connecticut. His first coaching experiences came at Western Connecticut University and before that at Pomperaug High School in Southbury, Conn., located just 10 miles from Newtown.
On December 14, the tragedy at Sandy Hook Elementary in Newtown shook the entire world, sparking a desire to help the community in any way possible.
In response, Verdi and his Eastern Michigan team plan to help stage an afternoon of basketball instruction and fun activities for youngsters in Newtown on Feb. 10.
Verdi and members of the Eastern team will work with the Newtown Youth Basketball Association to stage the
"Smiles & Basketball" clinic, from 2 p.m. to 6 p.m. at Newtown High School.
The clinic will be for students from kindergarten through eighth grade. There will be three hours of basketball instruction and an hour of entertainment for two separate groups, kindergarten through third grade and fourth through eighth grades.
A carnival area will consist of games, arts and crafts, face painting, a balloonist and clowns, plus food and prizes. Eastern's players will be working at stations in both the gym and carnival areas.
"Like the rest of the world, we feel strongly about reaching out to the community of Newtown and providing comfort and assistance in any way that we can," Verdi says. "As a father of three children, I couldn't imagine the everlasting devastation that these families must now endure.
"As a coach, social responsibility and citizenship are character traits that I reinforce in our players on a daily basis. 'Smiles and Basketball' is one way that our team, school and community can unite and provide something positive out of this horrific experience."
Eastern Michigan President Susan Martin said, "Eastern is known for community engagement, and for its students volunteering thousands of hours to help improve the lives of others. I am so proud of our women's basketball team for taking the time during the peak of their season to show their love for the children in Newtown by hosting them in a day of fun and basketball."
EMU athletic director Derrick Gragg noted that Verdi felt very strongly that Eastern should do something to try to positively impact the Newtown community.
"One of the main expectations of our student-athletes, coaches and staff is involvement in the greater society and giving back, especially to the children," Gragg said. "We are hoping that this will be an event that everyone will always remember and cherish."
Verdi says his and the team's objective is to help the children and families of Newtown keep moving forward, and understand that they are not alone.
Verdi describes the planned clinic as "an action-packed day of fun, excitement, laughter, smiles and basketball."
"Entertaining basketball drills and clinics will capture the attention of the children, and the smiles will be contagious," he says.
David Hamula, vice president of the Newtown Youth Basketball Association, said, "Newtown Youth Basketball was thrilled to learn that Coach Verdi and the women's Eagles basketball team wanted to come to Newtown. Having the team take time from defending their MAC title to come to our town to spend time with the kids – sharing their time, running some skills drills and just being with the kids says a lot about Coach Verdi, the women and the school as a whole.
"We are excited for the event and look forward to seeing the kids interacting with the players!"
Verdi, 40, was named EMU women's basketball coach on April 26, 2012. Before coming to Eastern he served as assistant women's coach at the University of Kansas, and before that worked for five years as an assistant at the University of Nebraska.
Verdi has also worked at Columbia University in New York City, with the Connecticut Sun of the Women's National Basketball Association and with Western Connecticut State University in Danbury.
Verdi was born in New Britain, Conn., earning his bachelor's degree in elementary education from Keene State College in New Hampshire and later adding a master's degree in computer technology from the University of Hartford.
To register for the clinic or for more information on the event, please visit www.Newtownyouthbasketball.com or call David Hamula at 203-885-6886.
Please visit this link if you are interested to providing a tax-deductible gift to help the EMU women's basketball in its trip to Newtown. https://www.emufoundation.org/index.php/public-give.html
If you prefer to make a gift by check, make it out to EMU Women's Basketball, indicate NEWTOWN in the memo line of the check, and send it to EMU Athletics Development, 799 N. Hewitt Road, Ypsilanti, MI 48197.
Click here for video: http://www.youtube.com/watch?v=kTPe0I0iD7I