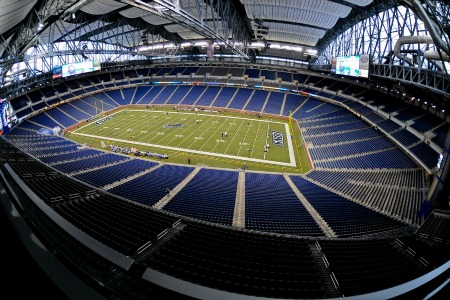 While the country prepares for Super Bowl XLVII down in NOLA, the Detroit Lions are preparing for next season. The Detroit Lions have announced that they will be upgrading the FieldTurf surface to the new FieldTurf Classic HD surface. Installation began to day and is slated to be completed by late February.
There are only six other teams to play their home games on the FieldTurf surface and twenty-two out of thirty-two NFL teams have the revolutionary surface either in their stadium or practice facilities. FieldTurf has been the preferred brand of artificial turf for ten consecutive years in 2010 and consistently receives high marks from the National Football League Player Association (NFLPA). In a survey conducted by the NFLPA, it was determined that three out of four artificial surfaces were in fact FieldTurf.
The revolutionary engineering in FieldTurf includes its patented FieldTurf infill mix of silica sand and cryogenic rubber and a patented layering process to simulate natural grass. The artificial surface can boast the added benefits of improved player safety and reduced maintenance cost. With the rise in player safety concerns and regulations, perhaps more teams will adopt artificial turfs such as FieldTurf for their stadiums.
Follow Amber L. Bogins @AmberLaShaii