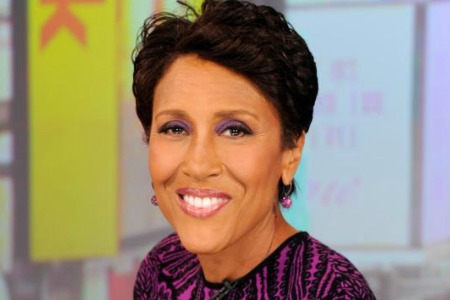 Robin Roberts returned to the set of Good Morning America yesterday morning for the first time since her bone marrow transplant this past September.
The popular television host was diagnosed last year with MDS (myelodysplastic syndrome), a rare blood disorder that affects bone marrow. Roberts discovered that her sister was a perfect bone marrow match during the course of her treatment.
"What a thrill to be back at GMA's Times Square studio this morning and see the best folks in the world, my GMA family," Roberts announced.
Although she did not resume her usual duties as a morning co-host that day, she returned to the studio before the show began to start the slow process of transitioning back to work, which included testing out the bright studio lights, getting used to wearing makeup again and assessing the risk of infection on set.
While the GMA host's medical journey has given hope and inspiration to many viewers, her story also sheds light on another important issue in the medical community that often goes overlooked — the lack of African-American donors in the bone marrow registry.
"It's bad enough to get a disease, but it's even worse when you're not able get the best available treatment out there [if you can't find a marrow match]," says Jim Fox, director of communications at the New York Blood Center.
Fox recently wrote an article for New York's Daily News that details his sister-in-law's battle with leukemia.
Like Roberts, Fox's sister-in-law was also lucky that one of her relatives was a match for her.
But the odds of having a relative be a perfect match are quite low. Fox says there is only a roughly 30 percent chance that a relative will be a bone marrow match.
That is when these desperate patients turn to the bone marrow registry.
Minorities in need of bone marrow transplants currently have the lowest chance of finding a donor within the registry according to Fox. Because DNA is used to make bone marrow matches, a person is more likely to find a match within the same racial or ethnic group.
African-American donors only comprise of seven percent of the nation's 10 million registered bone marrow donors. Black patients also only have an estimated 66 percent likelihood of finding a willing and able donor on the registry, according to Be The Match Registry.
Read more: https://thegrio.com/2013/01/25/robin-roberts-returns-to-good-morning-america-but-black-bone-marrow-donors-still-in-need/