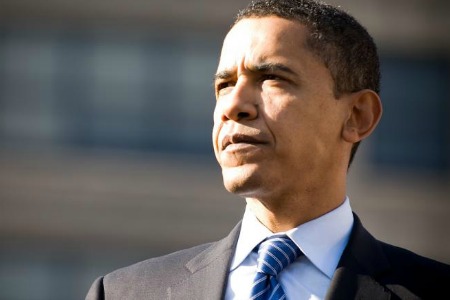 As the nation prepares for the public swearing in of President Barack Obama Monday Jan. 21 on the steps of the U.S. Capitol before thousands, Democratic allies are calling for a stronger Obama.
The president they say needs to show political muscle and fight back his detractors given the kind of condescending attitude that greeted his first term presidency from Republican leaders in Congress.
But the question remains as Obama now begins to tackle big ideas such as gun control, immigration reform, the debt ceiling, will he be ready to draw the line in the sand between him and Congressional Republicans?
"I'm really looking for a bolder, more result oriented leadership this time in our president," said Mayor Brenda Lawrence of Southfield, MI and one of the leading mayors in the nation. "The president was cautious and pragmatic in his first term . Now I'm looking for him to make a difference in the lives of people and for his legacy."
Speaking at the Rayburn House offices in the U.S. Capitol during an interview Lawrence, said she is also hopeful that the Obama administration will reflect the diversity of this nation "showing how individuals and minority group can be part of his administration."
Mayor Lawrence's remark on the need for more diversity in the Obama administration is a reference to a White House photo that showed the president with a group of all White male advisors except for senior advisor Valerie Jarrett.
Under fire for a photo that clearly lacked diversity at a time that Obama has been naming mostly White males to cabinet positions, the White House was forced to release another photo showing more women on the president's team, and urging critics to hold back because Obama still has more appointments to make.
Lawrence said she hopes the president will make good on diversity.
Michigan Democratic Congressman from the 14th District Gary Peters said Obama has no choice in his second term but to be more firm on how he wants to get things done.
" I think what he has learned from the second term is that its definitely difficult with a Republican majority to get anything done" Peters said. "He won decisively in his re-election. He believes he has a mandate to focus on and I'm hopeful that the Republicans who were just focused on defeating Obama during the first term will now get to work on issues and find a middle ground."
Peters said so far the president has been firm about debt ceiling because "you can't mess with something that would jeopardize the credit rating of the United States. Democrats have to be united and work on closely with the president."
The newly elected Congressman said the Democratic caucus in the House is very energized and ready to go to work.
"President Obama is very committed to Michigan," Peters said citing the recent federal funding announcement for a transportation projects in Detroit called M1 Rail.
"The president knows we need to focus on the greater Detroit area and the city of Detroit is vital which is why he supports the transit," Peters said. " We can always thank the president because where would our region be without his support of the auto industry."
Yet in the midst of calls for a bipartisan Congress it is still unclear if Republicans will extend an olive branch.
"We have to work together and reach across the isle and ask for corporation," Peters said. "The president has been reaching out to the country engaging strong public opinion on issues."
He cited as an example Obama's push for background checks for gun purchasers which is strongly opposed by the National Rifle Association.
"The public is with our president on his desire to have stronger background checks for gun owners and about 85 percent in the public support him. The number I think for even NRA members is 50 percent, Peters explained. "So the only way to get Republicans engaged in through public support and that means Obama using his bully pulpit."
House Speaker John Boehner barely won reelection recently on the heels of a Tea Party caucus- the extreme right- of the GOP that's been blocking his own proposals for compromise on the fiscal cliff.
How Boehner deals with Obama in this second term will determine the kind of leadership House Republicans have and how they will navigate through issues the White House and Democrats will be pushing that traditionally didn't win support in the GOP.
"I was expecting that Speaker Boehner will be elected even though he has not been an effective speaker because his caucus rejected him on the fiscal cliff," Peters said. "Even his own Plan B for the fiscal cliff was rejected. He has not been able to speak for his caucus because of the influence of the Tea Party."
But Congressman Peters said no matter what happens in the Obama era, the fact is that Speaker Boehner will have to evolve as Obama grows stronger and bolder in his second term.
Bankole Thompson is a Senior Author-in-Residence at Global Mark Makers Publishing House in Iowa where he is writing a groundbreaking six-part book series on the Obama presidency. His book "Obama and Black Loyalty" published in 2010 follows his recent book "Obama and Christian Loyalty" with a foreword by Bob Weiner former White House spokesman. His forthcoming books in 2012 are "Obama and Jewish Loyalty" and "Obama and Business Loyalty." He is the first editor of a major African American newspaper to have a series of sit-down interviews with Barack Obama. Thompson is also a Senior Political News Analyst at WDET-101.9FM Detroit (NPR Affiliate) and a member of the weekly "Obama Watch" Sunday evening round table on WLIB-1190AM New York and simulcast in New Jersey and Connecticut.