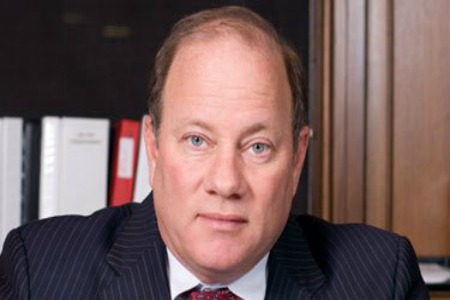 Detroit Mayoral hopeful Mike Duggan said he was "shocked" Thursday after his name was mentioned in a recording presented as evidence in the high-profile corruption trial involving former mayor Kwame Kilpatrick.
In the recording, Kilpatrick's father Bernard Kilpatrick is heard accusing former Wayne County Executive Edward McNamara his deputy Mike Duggan of participating in deals that were "borderline illegal".
Kilpatrick named Duggan and McNamara specifically in the audio, which was recorded in 2000.
"We carved out this, and I know this is … is borderline illegal and … the county was a different animal, everybody will tell you that."
Kilpatrick served as chief of staff to McNamara before becoming consultant once his son was elected mayor in 2002.
The undercover recording was taped during a meeting between Bernard Kilpatrick, Synagro executive James Rosendall and Kwame Kilpatrick's former girlfriend Akunna Olumba. The three were discussing how they were to get paid for helping Synagro get a $1 billion, 25-year waste disposal contract with the city.
In the recording Kilpatrick told Rosendall that Duggan and McNamara were carving out corners of contracts for themselves.
Duggan responded immediately saying he was shocked to hear his name mentioned in the trial.
"I left the McNamara administration 13 years ago and nobody's ever accused me of doing anything wrong," McNamara told Loal 4 News. "I have no idea what Bernard Kilpatrick might have said to a client he was trying to get money from."
Duggan said no one has ever accused him of any wrongdoing and that Kilpatrick was "trying to get a client to give him money."
Duggan says he won't let this affect his run for mayor.
"I am campaigning all day every day. This will have to impact," he said.
The U.S. Attorney's dismissed any concern over the recordings according to The Detroit News .
"Over the course of this four-month trial, the names of dozens of public officials and business leaders have been mentioned," Gina Balaya, a spokeswoman for the U.S. Attorney's office said in an emailed statement. "References to their names in no way mean that they have done anything wrong."