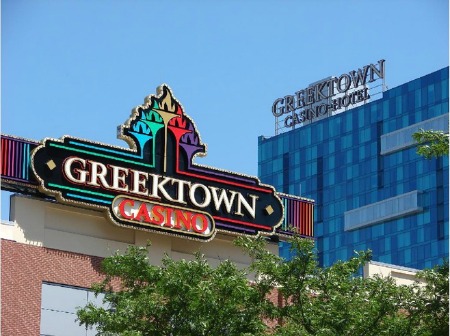 In a bid to become sole owner in Detroit's Greektown Casino-Hotel, Dan Gilbert's Athens Acquisition LLC, has offered to acquire the remaining shares from Greektown Superholdings Inc. after taking majority control of shares in the casino last month.
A Dec. 20 acquisition of a large block of Greektown shares by Rock Gaming LLC's Athens is contingent only upon approval of its gaming license by the Michigan Gaming Control Board.
In a letter sent to Greektown Superholdings today, Athens offered to pay $81 per share for the shares it has not already acquired, Greektown said in a statement.
The Greektown board of directors "intends to fully review and investigate the proposal and to explore all strategic alternatives available," the company said.
According to the letter sent to Greektown, Athens purchased a small number of shares in Greektown this summer before acquiring the larger block Dec. 20. Combined, the two blocks of shares give Rock Gaming LLC's Athens an ownership of more than 50 percent.
In the letter, Athens said it believes the proposal provides "significant value for the company's shareholders in light of recent similar transactions and comparable publicly trading companies and also represents a significant premium over recently reported trades in the company's shares."
"We recognize that minority shareholder protection is an appropriate board concern," Athens said. "Accordingly, shareholders who decline our proposal would be entitled to participate in any sale of the company on terms that are no less favorable than those received by Athens Acquisition."
Declining shareholders would also be entitled to the fair market value of their shares in the event that Athens Acquisition obtains ownership of the entire company through a merger, Athens said. In exchange, it "respectfully" requested that Greektown's board terminate the rights agreement that it entered into at the end of December.
On Dec. 31, Greektown Superholdings Inc.'s board of directors adopted a shareholder rights plan, or poison pill, to ward off takeovers.
Although Athens' most recent purchase of shares predated the rights plan that Greektown put in place, and Athens is therefore deemed under the rights plan to be the current beneficial owner of shares representing majority voting power, "we feel that cooperation between Athens Acquisition and the board is the best path toward a solution that benefits all stakeholders," Athens said in the letter.
The deal is subject to approval from the state gaming board, which is scheduled to meet Tuesday. It's not immediately clear whether it will review the deal as early as that meeting.
In an email sent to employees this afternoon, Gilbert, who is chairman of Rock Gaming, referred to "Project Athens," saying: "Just think of all of the possible threads. It's endless.
"Picture a thriving downtown urban casino with an incredible unique entertainment district around it that we grow all the way from Greektown to Campus Martius and then melds into all of the exciting growth and investment that is already taking place up and down Woodward Avenue."
Plans are still in the early phase. But Rock Gaming LLC Chairman Gilbert said he plans to make significant investment in the Greektown Casino-Hotel and the enhancement and growth of the entertainment district.
"We see this unique area extending to Campus Martius and along Woodward Avenue, building on the positive momentum already occurring in the heart of downtown Detroit," he said.
Urban casino development in large Midwest cities has been a primary focus of Rock's investment strategy over the past few years, CEO Matt Cullen said in a release.
Given its substantial focus on downtown Detroit, Greektown Casino-Hotel "could not be more in the epicenter of our business and civic interests," he said.
Rock Gaming teamed with Caesars Entertainment Corp. to develop the Horseshoe Casinos in Cleveland and Cincinnati, and jointly own the thoroughbread race track Turfway Park in Florence, Ky., near Cincinnati.
The two companies are developing a casino in downtown Baltimore, scheduled to open in 2014, and are developing a racino, with video slot machines, at Thistledown Racetrack outside of Cleveland.
Caesars will not be involved with Greektown Casino-Hotel; it is precluded from owning or operating any of the Detroit casinos, given its operation of the Caesars Windsor Hotel & Casino, said Jennifer Kulcycki, communications director for Rock Gaming.
Each of the casinos that Rock and Caesars co-own are located in the city's urban core and include retail and restaurants on the street level as part of their "urban casino" strategy to enhance and interconnect with the downtown, Kulcycki said.
The Horseshoe Casino Cleveland has seen 3.3 visitors since it opened in May, she said. Rock and Caesars are using vouchers to nearby restaurants and other attractions to encourage those visitors to explore the entire downtown rather than just the casino, and they envision the same for Greektown which is already an "urban casino" given its location right off of Woodward Avenue and proximity to nearby restaurants and retail.
"At the end of the day, a high tide raises all boats. Why not make it worthwhile for everyone downtown?" Kulcycki said.
Greektown Casino-Hotel's revenue was $26.6 million in November, down 6.5 percent compared with November 2011. Greektown had 24 percent of the market share in November.
https://www.crainsdetroit.com/article/20130116/NEWS/130119888/dan-gilbert-company-acquires-majority-interest-in-greektown-casino#