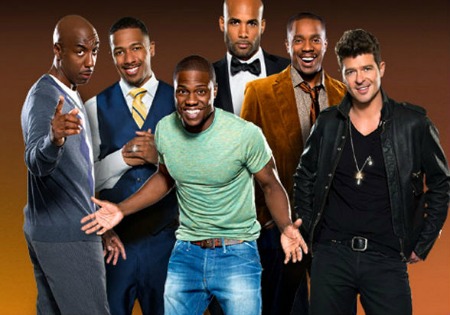 Prime time cable television just got a major dose of much needed testosterone with two new BET series airing on Tuesday night, 'Real House Husbands of Hollywood' and 'Second Generation Wayans'.
Will the two new shows put the 'fun' back in funny?
Recent comedy in television has come to be defined as a spoof of real life reckless behavior. Dare I say that all too popular 'r' word that comes to mind? Quite frankly, our culture has become accustomed to laughing at things that aren't meant to be funny. It is refreshing to find the comedic genre returning to its roots with a sitcom-like flare.
Granted, scripted comedy is alive and well in the mainstream; however, one cannot deny the absence of faces of color on the biggest networks' most popular shows. Perhaps, bringing this formula to black entertainment television will mean actors, and not just reality stars, get to enjoy a share of 'small screen' success.
'Real House Husbands of Hollywood', as can be expected from its title, plays upon the stereotypes one might imagine. Joining funny man Kevin Hart are such familiar faces as Nick Cannon, Boris Kodjoe, and Duane Martin, coupled by guest appearances from Nelly and Robin Thicke.
The comedic comrades poke fun at scenarios that tend to define today's biggest reality shows that follow the lives of so-called happy homemakers. The scenes appear hilariously similar to ones we've watched play out in an episode or two from the 'Real Housewives' franchise. 'Real House Husbands' offers a new formula for the urban 'small screen', unlike the reality shows that have recently become television's most lucrative genre.
'Second Generation Wayans' may not offer as frequent back to back laughs. It, however, showcases a style that is unique and stands apart from what's currently on the air. It follows the quest of two Wayans' sons, Damien (Damon) and Craig (Keenan Ivory) as they endeavor to 'make it' in Hollywood. Rounding out the trio is honorary family member, George Gore, who you might recognize from ABC's 'My Wife and Kids'. Other familiar faces include actresses Tatyana Ali and Regina Hall, and former Destiny's Child crooner Letoya Luckett. At one point in the first episode, the show and 'Real House Husbands' cross over with Kevin Hart making an appearance.
Will these new shows that challenge the status quo of current television comedy survive? The two sitcoms can each be best described as a 'reality show but not really'. In short, they define a new genre, one that might catch on with viewers in search of something new. We'll be watching to see whether or not Kevin Hart and the Wayans' Tuesday night take over helps BET compete with televisions' heaviest hitters.
Follow Britney Spear on Twitter @missbritneysp