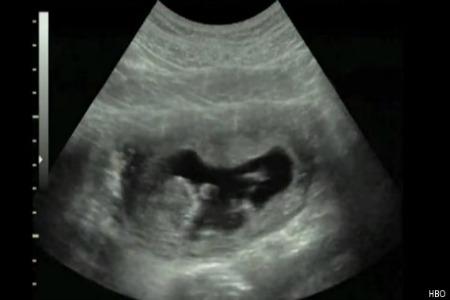 It's Beyonce's most personal revelation yet.
For her new HBO documentary, "Life Is But a Dream," Beyonce reveals Blue Ivy's sonogram after an intimate video confession during which she says that she knew something felt different inside her.
"I just had a feeling that something was going on," says a makeup-free Beyonce while lying in bed before the sonogram image crosses the screen. "Really? This is crazy."
Beyonce goes on to talk about the difficulty of trying to keep the pregnancy a secret from the public, before her big reveal at the MTV Video Music Awards in August 2011. "They keep putting me in these tight clothes and trying to hide it, it's very difficult," she says, showing off her growing stomach. "I don't know how I'm going to do this."
That summer, Beyonce was performing sold-out shows at New York's Roseland Theater while hiding her pregnancy. "When you're pregnant, it's a little bit harder to breathe, so it was hard doing all the choreography and singing at the same time," she told the Associated Press at the time.
The newest trailer from the documentary comes one week after Blue Ivy celebrated her first birthday on Jan. 7. Although Beyonce didn't speak publicly about her and Jay-Z's daughter turning 1 year old, she did post an adorable photo of Blue walking on a tropical beach during a vacation.
Beyonce opened up about motherhood with GQ for the magazine's "100 Sexiest Women of the 21st Century" issue. "I love my job, but it's more than that: I need it," she told GQ. "Because before I gave birth, it was the only time in my life, all throughout my life, that I was lost."
The very private superstar will offer an intimate look into her personal life in the new HBO documentary, set to premiere on Feb. 16. "I always battle with how much do I reveal about myself," Beyonce says. "How do I stay current? How do I stay soulful?"
https://www.huffingtonpost.com/2013/01/14/beyonce-blue-ivy-sonogram-pregnancy-struggles-hbo-_n_2472926.html?utm_hp_ref=black-voices&ir=Black%20Voices