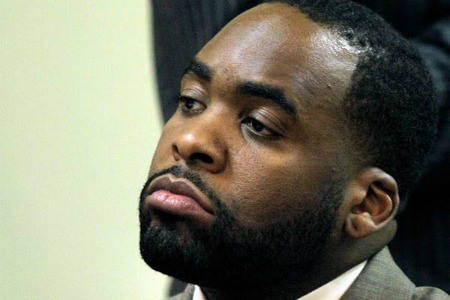 Kwame Kilpatrick has once again found himself in a sticky situation with the law after he was spotted on a security camera at Walmart. The former Detroit mayor, currently on trial for corruption, could be facing another stint in jail for not reporting a $2,000 Christmas gift from a supporter.
A security camera at the Chesterfield Township, Mich. store recorded him cashing a $2,000 wire transfer sent by Chicago Pastor Corey Brooks in December, Detroit affiliate Fox 2 reports. Officials told the news station that Kilpatrick kept about $800 for himself and wired around $1,100 to Texas, where his family now resides.
Brooks told Fox 32 in Chicago he had done nothing illegal by sending the money, which he called a "Christmas gift."
The Detroit Free Press reports Kilpatrick lied to a parole officer about the $2,000 when he was asked if he had reported all of his December income and gifts. Failing to report the funds could be a violation of his parole for crimes related to a text-messaging scandal.
Kilpatrick lied under oath about an affair during a police whistleblower lawsuit, pled guilty in 2008 to two counts of obstructing justice and served a little over a year in jail.
According to the Detroit News, the state Department of Corrections is reviewing the situation to determine whether there will be a consequence for Kilpatrick.
The News reports that he called the matter "trivial" after a day in court Tuesday. Kilpatrick is currently on federal trial along with his father Bernard and his friend Bobby Ferguson for running the mayor's office as a criminal enterprise for their own profit.
The ex-mayor owes the city of Detroit more than $800,000 in restitution for his crimes.
In March, the State of Michigan tripled his restitution payments from $160 to $500 after giving evidence that Kilpatrick was living a "life of luxury," despite claims that he could not make his payments.
Kilpatrick reportedly missed his November restitution payment and almost received a parole violation for failing to prove he had logged his required community service.
https://www.huffingtonpost.com/2013/01/09/kwame-kilpatrick-walmart-chicago-pastor-gift_n_2432422.html?utm_hp_ref=detroit
About Post Author