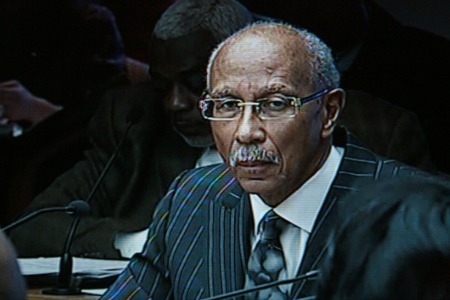 After a sudden city council vote that allowed Mayor Dave Bing to demote the city's top lawyer, Bing said the city is now better poised to make necessary financial reforms and stave off a state-appointed financial manager.
But according to Bing it wasn't him who pressed for the removal of corporation counsel Krystal Crittendon, it was members of a state-appointed team reviewing Detroit's finances to decide whether the city needs emergency intervention.
"I think [based on] the pressure that's been applied by the review team that's in here presently, we knew that we had to make changes in order for us to move our program forward," he said at a news conference Tuesday afternoon.
Last year Bing urged the council remove Crittendon after she raised a controversial legal challenge to the city's consent agreement with the state. At that time, the council refused to vote on the matter, prompting Bing to abruptly leave the June city council meeting calling it a "sideshow".
Council members voted 6-3 Tuesday to allow Bing to remove Crittendon from her post as top lawyer without cause.
Crittendon said she has not decided whether she will continue working for the city's law department.
The results of the state review team could trigger the appointment of an emergency financial manager and may be available as soon as this Friday Bing said. The state is still operating under Public Act 72. The new emergency manager law, Public Act 436, will not go into affect until March.
Bing said he was encouraged by a growing relationship with council members after meeting with a number of them over the holiday break.
"I think we worked very well together and I think that will continue as we move through 2013," Bing told council members at Tuesday's meeting. "I just hope that our relationship strengthens and we do the things that are necessary to bring the city back."
Council members JoAnn Watson, Brenda Jones and Kwame Kenyatta where the only dissenting votes on Tuesdays decision to remove Crittendon, and calling it a "miscarriage of justice" and a "disgrace".
Crittendon said she believed the re removal was a concealed requirement that City and State officials agreed on in order to receive bond money held in escrow.
"From what I hear, I was a secret milestone," Crittendon told The Free Press. "They don't want anyone there who's going to require them to follow the law."
Crittendon came into the spotlight last year when she filed a lawsuit challenging the legality of the consent agreement. She was she was concerned that the agreement was in violation the city charter, which prohibits the city from entering contracts with entities with debt to the city. Crittendon cited millions in revenue sharing debt and unpaid water bills.
A judge ruled dismissed the charge, but the move prompted Bing to seek outside legal advice and hire law firm Miller Canfield to counsel him on legal matters.
Crittendon opposed the $300,000 miller canfield contract citing a conflict of interest. But city council eventually voted to approve the contract under pressure to receive state bond money.
Bing said he felt Crittendon's removal was best for the city, and not a personal act of revenge.
"There is no animosity from our vantage point. There is no personal agenda for me," Bing said. "I've got to make sure I've got the right people with me."
He said he would appoint a new corporation counsel by the end of January.
City Council on Tuesday also approved $7 million in contracts with private turnaround firms. The state has offered 1.1 million to help the city pay for turnaround costs.
Detroit Program Manager Kriss Andrews said the sums spent on financial consulting are investments in the city's future.
"The consulting contracts are going to be to the left of the decimal compared to the things that we need to do to make this a great city again," Andrews said.