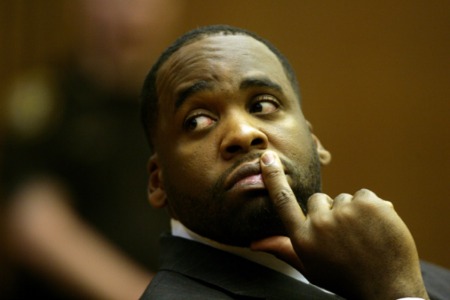 DETROIT — Suppose you had spent the best years of your life trusting someone. Suppose you gave them insight into your inner sanctum; your thoughts, your faults and your crimes, only to have them tell the world. Well on Monday, that's just what happened as longtime confidant to former Detroit Mayor Kwame Kilpatrick testified against him at his corruption trial.
Derrick Miller, who was Detroit's chief administrative officer, has known Kilpatrick since the ninth grade and was one of his key advisors during his meteoric rise to political power.
Miller acknowledged that checks from a nonprofit community fund paid for political consulting, a vacation and golf clubs. Keep in mind, Miller was among the original five defendants in the corruption case until he pleaded guilty in 2011 and agreed to cooperate with prosecutors.
During his testimony, prosecutors displayed checks on a screen. Allegedly the checks were for illegal spending, funneled from Kilpatrick's Civic Fund, which had been promoted as a nonprofit fund to help the community. There were checks for golf clubs, yoga, an $8,600 stay at a resort and political polling. Most of the checks had been signed by Miller.
Miller went on to further indict Kilpatrick when he said he lied at a 2001 debate that Civic Fund money wasn't used by the campaign. When a local TV station learned about Kilpatrick's trip to a resort in Carlsbad, Calif., he told his aides that he was there to raise money for the fund. According to Miller, that wasn't true.
"He basically had to come up with some kind of response," Miller testified.
Kilpatrick, his father Bernard and good friend Bobby Ferguson are charged with running a criminal enterprise by rigging contracts and taking payoffs over many years. Miller's testimony is important because he was involved in many of the unethical activities, according to the government.
Miller was the first member of the Kilpatrick Enterprise – as dubbed by the government in its 2010 indictment – to cut a deal in the case. Miller pleaded guilty to bribery and tax charges. He also admitted that he shook down contractors at Kilpatrick's direction, delivered cash bribes to the Mayor and took bribes himself. Per court documents, Miller once delivered a $10,000 cash bribe to Kilpatrick in a restaurant bathroom.
Miller has also supported one of the government's main trial themes: that Kilpatrick navigated work to Ferguson.