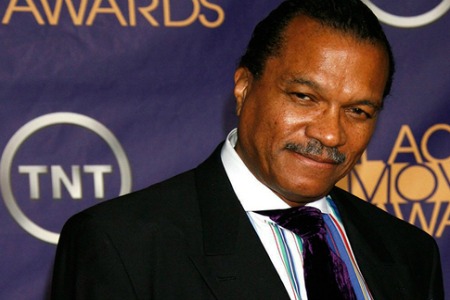 Legendary actor Billy Dee Williams' record needs no introduction, but is certainly beyond worthy of one. The iconic thespian has carved prolific and irrefutable footprints in the entertainment world for more than 60 years. He's amazed universal audiences through television, radio, broad way and film. With credits in each genre too numerous to name, he is back in Detroit supporting the Detroit Pistons and Palace & Sports Entertainment's Star Wars Night. He celebrates his role as Lando Calrissian in Star Wars Star Wars Episode V: The Empire Strikes Back and Star Wars Episode VI: Return of the Jedi and will sign autographs on Friday, January 4, 2012 during the Piston's Power Hour in Auburn Hills. He talked exclusively with The Michigan Chronicle about his career, surviving the industry and upcoming projects.
Mr. Williams it is such a pleasure to meet you. You career is iconic. What has everything been like for you?
Well I've had a lot of fun and I have been very fortunate. So it's been pretty good.
Can you take us back to when you first started and share some of your experiences with having to prove who you were to the industry?
Well I have been doing this since I was six and half years old. I did a broad way musical and you know as an actor as an athlete or whatever the endeavor is, I think you're always running around trying to prove that you're as good as everyone else. And so it's always a lot of good hard work. But if it works, and you can make a living of it, then it is a real plus. So yes I have been very fortunate in that way.
You were actually classmates with Diahann Carroll and of course, you all have been on the set together. Any special memories you have about legendary actors and actresses you've worked with?
Well Diahann Carroll and I went to Music and Art High School together in New York City. I think I was a year behind her. I had just come in the school. And she was soon to leave and I remember her being a burst of sunlight. She had that kind of presence that was magical. I often talk about it when I am asked about her and I even tell her that. Everyone seemed to be following behind her when she went through the corridors in school because she had this very strong and incredible presence. So we had a lot of fun working together. I see her sometimes at lunch in LA. The last thing we did together was White Collar.
You've worked in television, film, radio and music. Some of your greatest works have been with Star Wars as Lando Calrissian. Talk about that a little and what that's meant to be part of film history.
Well Lando Calrissain is a staple in people's lives these days. It's been 33 years. Oh my gosh, you were just a little tiny baby. It was a wonderful experience you know. They asked me to do the character and at that time and I just come off from doing a lot of movies and I had a lot of popularity at the time. I was asked to do The Empire Strikes Back and Return of the Jedi. So the director came to my house at the time and that is a little unusual when the director comes to your home. You usually go to the office to meet people. But at that time, he just came by and we sat and talked about the eastern philosophy and Buddhism. I was pretty much involved with that and it served to sort of direct my life in a lot of ways. As a result of the meeting we had, we developed a really good friendship and there I was doing Lando and I loved doing Lando. He was like a swash-buckling kind of character and I always liked playing those bigger-than-life roles.
So you'll finally be reunited with some of the characters of Star Wars soon thanks to the Palace Sports & Entertainment.
Yes. It will be interesting to see them and I sometimes see them when I go out on these autographing tours.
Speaking of Detroit, you've also done work with Ms. Diana Ross so how does it feel to be back in the city?
Oh Detroit is great. Diana and I had a great time. I just ran into her about two or three weeks ago at the supermarket. We had a great time.
Your recent work includes guest appearances with NCIS, Mad and Key and Peele. Will you ever retire or is acting something that you just become?
Well when interesting things come along, I am always willing to do those things. As a matter of fact, I am going to be on Modern Family next week on Wednesday, January 8, 2012. That was a lot of fun and I am playing myself. I'm always doing parodies of myself it seems.
When you've been in the industry as long as you have and as successful as you've been, what's been your mainstay?
Well I think family has a lot to do with it, my kids and now I have these great and wonderful grandkids. I don't know. It's all a journey and the journey never stops until your heart stops I guess or the blood stops flowing. You meet every situation as if it were a challenge. Right now as a painter, I am in a very peculiar place and I have sort of run out of ideas and I'm trying to find something interesting and a new way of approaching and expressing myself.
So in times like these, where do you find your inspiration comes from?
Everything…just life.
Are there any new projects in the works?
With the book writing, I co-authored three books. One was with Elizabeth Atkins. She is here in Detroit. Yes we did Twilight. She did most of the book and she is an excellent writer.
Your voice is legendary. Is that natural or were you classically-trained with the Billy Dee Williams voice the world has come to know?
I think I sound like a little kid. Yeah (in the deep voice).
Well the world loves your voice.
Really? I don't really think too much about it, but I am glad the people enjoy listening to my voice. About a year and a half ago, I was on one of Aretha Franklin's albums and I did a little recitation using my voice.
What do you do in your spare time if there is such a thing?
I spend a lot of time at the gym. You know I am trying to hang in there. And I spend a lot of time in restaurants. (laughing) . But I am always busy doing something or one thing or another, or flirting with the girls. I do manage to stay busy.