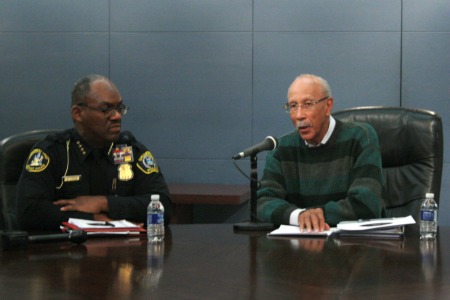 While 2012 proved to be one of Detroit's bloodiest years on record with homicide rates spiking 12 percent, the overall citywide crime rate is down nearly 3 percent from 2011 according to crime statistics released by the Detroit Police Department (DPD).
Interim Police Chief Chester Logan joined Mayor Dave Bing in announcing year-end crime statistics at a news conference Thursday morning.
At the conference, Logan noted what he called a "nice trend" in the decline of residential break-ins in the city, down nearly 13 percent from 2011.
Also down from last year by smaller margins are violent nonfatal crimes including assault, robbery and rape.
Logan said domestic disputes can be largely be blamed for the spike in killings, something that police patrols can't curb.
The four most recent murders in the city have been fueled by domestic disputes according to Logan.
"Those are the kind of [homicide] increases that we've seen all year long," Logan said. "There have been domestic anger, arguments something that has caused some kind of conflict and the way they usually resolve that conflict is some kind of deadly force."
Bing agreed. "You can't have a police in every home in the city," he said. "We can't give up, we can't give in… all of us have to get involved to help each other solve these problems."
One reason why Logan said overall citywide crime statistics have not seen a deeper decline is that it is now easier to report a crime thanks to technology.
"We feel firmly that crime is down," Logan said. "In the City of Detroit, believe it or not, we provide probably some of the best police service in country."
Logan said it takes the average person about 5 minutes to report a crime over the phone, a service that is available 24-7 as opposed to having to visit a police station.
The DPD is also bringing online in the next 30 days a program called Coplogic that will allow citizens to report crimes online from their computer or smart phone.
Probably why you don't see as big a decrease in crime is because citizens now have so many avenues that they can make a report," Logan said.
Despite a drop in overall crime, the growing number of homicides each year is alarming, Bing said. The number of nonfatal shootings is inched up 20 from last year to 1,263. As the city looks at ways to save money during an ongoing financial crisis Bing has said no city workers, including public safety, are off the table for cuts.
But on Thursday he said he plans to work with Logan to train and hire new officers. He said some officers have been lost due to attrition but other wise he has never cut police.
"From a public safety standpoint I have been accused of taking away from public safety. In terms of boots on the street we have not done that," Bing said. But he added that hiring new officers is not a quick fix, rather an "elongated process."
When asked why Detroit has not employed more creative (and controversial) crime fighting techniques that helped lower New York City crime rates Logan said the two cities are not comparable.
"The difference between the City of New York and the City Of Detroit is like night and day," Logan said. "New York has 35,000 or 40,000 police and 319 square miles. Detroit has 140 square miles and a heck of a lot less police officers than that," Logan said. "The literacy rate is a lot higher than Detroit, the employment rate is a lot higher than Detroit. We are unique."