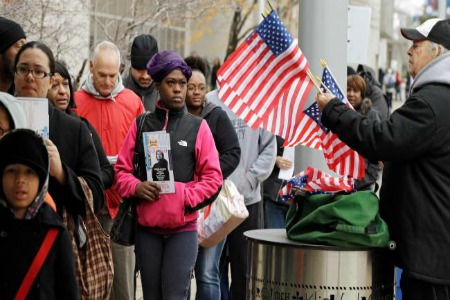 A new study from the Pew Research Center suggests that the 2012 presidential election marks the first time in history where African-Americans were voting at a higher rate than their white peers.
"Unlike other minority groups whose increasing electoral muscle has been driven mainly by population growth, blacks' rising share of the vote in the past four presidential elections has been the result of rising turnout rates," reports the study.
Although blacks make up 12 percent of the so-called "eligible electorate", 13 percent of the ballots cast for president were African-American voters.
"Did the turnout rate of blacks exceed that of whites this year for the first time ever? For now, there's circumstantial evidence but no conclusive proof," the Pew report says. "And there'll be no clear verdict until next spring, when the U.S. Census Bureau publishes findings from its biannual post-election survey on voter turnout."
The study also acknowledges that "in all previous presidential elections for which there are reliable data, blacks had accounted for a smaller share of votes than eligible voters."
Whether it was voter ID laws, the chance to re-elect the first African-American president or economic insecurity — one this is clear — black voters were motivated to return to the polls this November.
https://thegrio.com/2012/12/27/pew-study-blacks-may-have-voted-at-higher-rate-than-whites-for-1st-time-in-history/