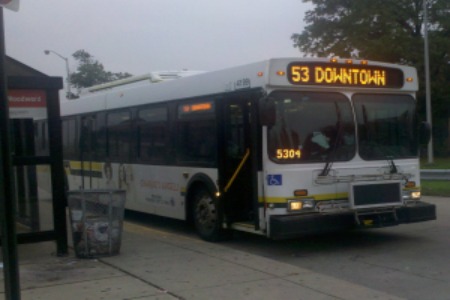 DETROIT (WWJ) – Detroit Mayor Dave Bing has vowed to improve security measures on city buses.
Bing made the announcement in wake of last week's deadly assault on a DDOT bus — when a man died after being stabbed by another passenger on the bus. The stabbing reportedly happened after the suspect told the victim he was standing too close to him.
Bing said the Detroit Police Department has been working with the city's Department of Transportation to identify troubled routes to "ensure the safety of our drivers and passengers."
"Police officers periodically follow buses and board them to make regular contact with drivers and passengers," Bing said in a written statement.
"Meanwhile, my office is looking into the availability of federal dollars to provide additional security on DDOT buses. The safety of our citizens, wherever they are, remains of paramount importance to me and my Administration," the statement read.
Security on city buses has long been an issue in Detroit. Last November, about 100 DDOT employees walked off the job and refused to drive their bus routes because they feared for their safety.
http://detroit.cbslocal.com/2012/12/26/detroit-mayor-vows-to-improve-security-on-city-buses/