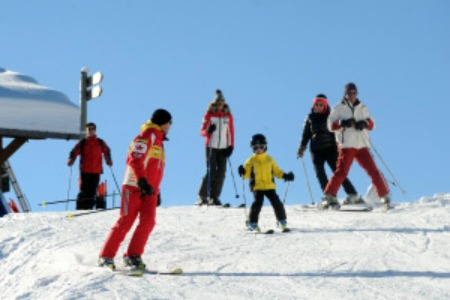 DETROIT (CW50) New Year's is almost here, which means it's time to set those annual resolutions — and try, once again, to stick to them.
Make the first day of the new year a fresh start toward a practical and more manageable fitness program by joining representatives from the Department of Natural Resources (DNR), Michigan Recreation and Park Association (MRPA) and Blue Cross Blue Shield of Michigan (BCBSM) for special "Shoe Year's Day" snowshoe and hiking events taking place in state and local community parks and recreation areas across Michigan on Tuesday, Jan. 1, 2013.
Strap on a pair of snowshoes or lace up the hiking boots and join other fitness-minded individuals for the "Shoe Year's Day" treks. Participants will receive healthy lifestyle tips from local experts, enjoy healthy refreshments and have the opportunity to make an official pledge to get Fresh Air Fit this year.
"Local parks and recreation departments provide affordable, accessible places for people to be active," said Michigan Recreation and Park Association Chief Operating Officer Ann Conklin. "From trails and parks to local community centers and pools, to health and wellness programs and activities, there are endless opportunities to get fit and healthy through your local parks and recreation departments."
"Our second annual 'Shoe Year's Day' activities are our way of luring Michigan residents off the couch by offering healthy outdoor alternatives to a day traditionally spent in front of the TV," said DNR Parks and Recreation Division Chief Ron Olson.
"We feel it's important for Michigan residents to remember that many of our state parks and recreation areas are open all winter, and our staff is busy grooming the parks for activities such as cross-country skiing, snowshoeing and winter hiking. We hope that 'Shoe Year's Day' inspires participants to get outside even during winter, so that exercising in natural surroundings will become, well, second nature," Olson said.
Enjoying winter sportsand activities among some of the most beautiful scenery in Michigan offers extra benefits to health-conscious individuals. Studies show that exercising in a natural setting improves not only physical conditioning, but also helps improve mental attitudes by relieving stress and reducing depression. "Plus it's less expensive than a gym membership," Olson said. "A half-hour on a treadmill can get you fit, but think about what a half-hour hiking through a quiet winter woods can do to not only increase physical stamina, but to lift the spirits as well."
"No one can deny the benefits of physical activity," said Bridget G. Hurd, director of Community Responsibility for BCBSM. "However, when the winter months come along, we are less motivated to get outdoors and exercise. 'Shoe Years Day' is an exciting program that encourages residents to get outdoors, engage in physical activity, and enjoy the natural wonders that our state and local parks offer."
All "Shoe Year's Day" events are free, and snowshoes will be available on loan at most locations. A Recreation Passport is required for vehicles entering all Michigan state parks and recreation areas. For a list of "Shoe Year's Day" activities, visit: www.michigan.gov/stateparks.
More outdoor fun and exercise is available through the DNR's Recreation 101 program, which provides expert instruction to budding outdoor enthusiasts by offering free, hands-on training in over 50 different activities. Learn about participating or becoming an instructor, at www.michigan.gov/rec101. The DNR also offers ongoing nature programming; check out the schedule at http://www.michigan.gov/natureprograms" href="http://links.govdelivery.com:80/track?type=click&enid=ZWFzPTEmbWFpbGluZ2lkPTIwMTIxMjE4LjEzNTgwMjQxJm1lc3NhZ2VpZD1NREItUFJELUJVTC0yMDEyMTIxOC4xMzU4MDI0MSZkYXRhYmFzZWlkPTEwMDEmc2VyaWFsPTE3MzE3NTgxJmVtYWlsaWQ9cHVibGljYWZmYWlyc0B3a2JkdHYuY29tJnVzZXJpZD1wdWJsaWNhZmZhaXJzQHdrYmR0di5jb20mZmw9JmV4dHJhPU11bHRpdmFyaWF0ZUlkPSYmJg==&&&109&&&http://www.michigan.gov/natureprograms?source=govdelivery">http://www.michigan.gov/natureprograms.
The Recreation Passport is an easy, affordable way for residents to enjoy and support outdoor recreation opportunities in Michigan. By checking "YES" for the $10* Recreation Passport ($5 for motorcycles) when renewing a license plate through the Secretary of State (by mail, kiosk, online at www.expresssos.com or at branch offices), Michigan motorists get access to state parks, recreation areas, state forest campgrounds, non-motorized state trailhead parking and state boat launches. In addition, Recreation Passport holders can experience real savings at businesses and retailers that participate in the Passport Perks discount program. The Recreation Passport is valid until the next license plate renewal date. Nonresidents can purchase the Recreation Passport ($29 annual; $8 daily) at any state park or recreation area or through the Michigan e-Store at www.michigan.gov/estore. *Starting Jan. 2, 2013, the purchase price of the Recreation Passport is $11 for Michigan residents.
Learn more about this creative way of sustaining Michigan's outdoor recreation and natural resources at www.michigan.gov/recreationpassport. For information on Passport Perks shopping discounts or how businesses and retailers can enroll in the program, visit www.michigan.gov/passportperks.
http://detroit.cbslocal.com/2012/12/25/celebrate-shoe-years-day-in-michigan/