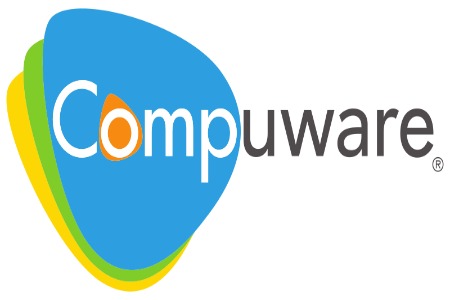 Celebrating moving into their new four bedroom, one bathroom is one of the best gifts the McQueen family has received.
Orlando and Kyomonique McQueen won their home through the "Project Welcome Home" contest sponsored by Compuware, in partnership with Habitat for Humanity, Art Van and the Parade Company.
"I am speechless," said Orlando McQueen, 22. "Words cannot describe how I feel right now and how grateful and excited we are."
Through last year's "iWish4Detroit" campaign, Compuware invited people to enter an online contest as to why they should receive a new home. The McQueen's were one of more than 100 families who entered. During the 2011 Thanksgiving Day Parade, Compuware's Dream Factory float displayed the wishes for Detroit, which were submitted through the website.
"Compuware is glad to be a part of giving back to a family and to the community," said Tonya Heidelberg-Yopp, senior vice president of Culture, Community and Diversity for Compuware. Habitat for Humanity already has an incredible process and they made it easy for us to kick in and help. There were more than 200 Compuware employees that helped in one way or another."
Compuware teamed up with Habitat for Humanity to help build the home, which is located in the Morningside Community on Detroit's eastside. Habitat for Humanity, a nonprofit organization that focuses on rebuilding areas has core requirements for families who are recipients of a home. The family must help build their home and also invest a minimum of 400 sweat equity hours in building someone else's home.
"We are very excited and grateful," said Kyomonique McQueen, 21. "We have already started our sweat equity hours and it feels good to be able to do for others what people have done for us."
Additionally, the mortgage will also be paid for the first two years.
The couple, which married on June 29, also has two young sons and faced challenging times over the past few years. Currently, the McQueen's are living with relatives – and all four of them sleep in one bed and are living out of one room. All of their clothes are in crates and they do not have a refrigerator to store food.
While making only $8 per hour, Orlando McQueen, with the support of other family members, paid for him and his wife to attend medical assistance school. Now, they both work at Henry Ford Hospital.
"This is a dream come true for our family," said Orlando McQueen. "I honestly never thought that we would be home owners and with this blessing to build on, I know that our family will be secure as we grow and chase our dreams. Thank you to Compuware and Art Van and Habitat for Humanity Detroit and all of the people that made this happen, we couldn't be more grateful."
The McQueen's plan to continue pursuing careers in the medical field. Kyominique will be returning to school in January so she can stay on the path of becoming a registered nurse and Orlando plans to become a medical assistant.
"Helping a family move in at any time of the year is great, but especially for Christmas to be able to help a family with a home is great. The McQueen's are an awesome family and we are glad to be a part of it. ," said Vincent Tillford, executive director of Habitat for Humanity, who serves nearly 75-100 families annually.
Art Van Furniture also teamed up, donating more than $10,000 in furniture. The two children's bedrooms are theme Spongebob and Cars.
Comcast donated a television and the McQueen family is enrolled in the Internet Essentials program, where they can receive broadband internet for a reduced fee.