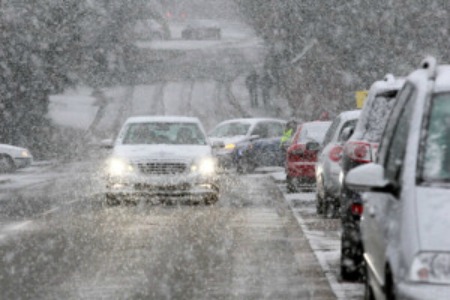 DETROIT (WWJ) – It's looking like a white Christmas is pretty much a sure thing in parts of northern Michigan, where a Winter Storm Warning takes effect Thursday morning.
AccuWeather's Dave Bowers said storm in the southern plains will be cutting up though the western Great Lakes, putting down a mantle of heavy snow from Colorado all the way to northern Michigan.
Bowers said the Upper Peninsula, as well as northern and northwestern parts of lower Michigan, will see easily 6 to 12 inches; some spots could end up with more than a foot of snow.
"They're gonna get hammered up there. It'll actually be blizzard conditions for a time because on the back side of that storm the wind is going to be very, very strong," Bowers said.
That National Weather Service says Thursday afternoon into Friday morning, heavy, wet snow will occur in the greatest amounts will be in the higher terrain from the Huron Mountains to Ishpeming, Negaunee and Gwinn. Winds out of the north could gust up to 40 mph late Thursday afternoon through early Friday morning, mainly near Lake Superior, resulting in areas of blowing snow
The combination of snow and blowing snow will result in very difficult driving conditions. with reduced visibilities and snow-covered roadways in upper Michigan. The Winter Storm Warning will be in effect from 7 a.m. Thursday until 1 p.m. Friday.
Here in metro Detroit, Bower said we will see rain on Thursday which could change to snow Thursday night, leaving a coating of maybe inch. Snow showers and strong winds are in the forecast for Friday and, according to Bowers, there's about a 50-50 we'll have a white Christmas this year in Southeast Michigan.
https://detroit.cbslocal.com/2012/12/19/winter-storm-headed-for-michigan/
About Post Author